NHL Trade Deadline: Deal or no deal?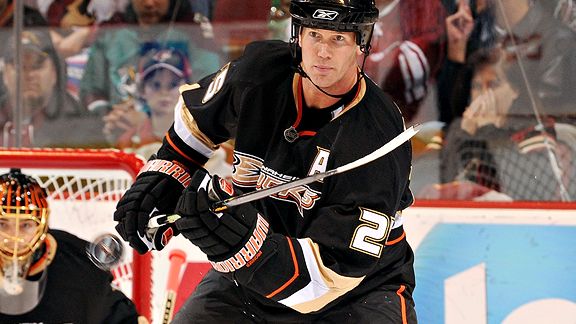 With hours remaining before the NHL's trading deadline at 3 PM (ET) today, hockey fans want to know…
Who's buying?
Who's selling?
Who's going to be traded?
Rumors are running rampant, and it's very hard to distinguish fact from fiction. 25 of 30 teams in the league have a realistic shot of making the playoffs, and nine of them are legitimate Stanley Cup contenders. You can expect a number of trades today, as a combined 50 deals were executed at the trade deadline in the past two years.
Here are six likely candidates:
Chris Pronger – D, Anaheim Ducks
His immediate impact as an offensive defenseman could be very beneficial to any team that would acquire him. The Ducks are looking to make a major roster overhaul this off-season, and cannot afford to keep Pronger's large contract ($6.25 million) on the cap next season. He is eligible to become an unrestricted free agent (UFA) after the 2009-10 season.
Tomas Kaberle – D, Toronto Maple Leafs
He has an iron-clad no-trade clause in his contract, but the Canadian press is reporting that Kaberle gave Maple Leaf GM Brian Burke a list of 10 Eastern Conference teams for which he would waive his no-trade clause. Their asking price could be a stumbling block, as Burke is requesting a minimum bid of a first-round draft choice, an impact roster player, and a prospect from any prospective buyer.
Jay Bouwmeester – D, Florida Panthers
Panthers GM Jacques Martin will have a tough deadline decision to make today. Does he acquire a nice package to aid his team's effort in making a playoff run or does he stand pat and allow Bouwmeester to become an UFA after the season? The Panthers haven't been in the playoffs since the '99-'00 season, and must show their fans some progress.
Keith Tkachuk – C/LW, St. Louis Blues
Here's another veteran player with a no-trade clause in his contract, and the local media is reporting that Tkachuk is willing to waive it for the right opportunity. The Blues have made a late run for a playoff spot, but they haven't secured a position yet. If Tkachuk is traded, this will be sign that ownership has decided the playoffs are out of reach and believes he deserves one last opportunity to play for a Stanley Cup.
Olli Jokinen – C, Phoenix Coyotes
The Coyotes are on the brink of financial ruin with no immediate help in sight. They have fallen out of the playoff picture, but upper management is convinced that Jokinen still remains a key ingredient to their recipe for success. All media reports have stated that the Coyotes will need to receive a helluva offer to pry him out of Phoenix. Contenders are trying to gauge the Coyotes' level of desperation before submitting trade offers.
Ryan Smyth – LW, Colorado Avalanche
The Avs are in a rebuilding mode and Smyth's salary ($6.25 million) is an albatross around their neck. He is one of few Avalanche players that could bring value back in a trade, but Colorado's asking price has been too high for most teams to even continue trade talks. If their price comes down, then Smyth will be traded by the deadline.
Let the trading begin…