Pistons' struggles can be traced back to 2003
With the second pick in the 2003 NBA Draft, the Detroit Pistons select…
Darko Milicic.
This is the blackest mark on GM Joe Dumars' otherwise solid record guiding the Pistons, but six years later, the Milicic pick is having a domino effect on the franchise. While Dumars did successfully dupe the Magic into trading a first round pick for Milicic in 2006 (which resulted in the selection of Rodney Stuckey in the 2007 draft) the Milicic pick still haunts this franchise. Just take a look at the next few selections in that 2003 draft…
3. Nuggets: Carmelo Anthony
4. Raptors: Chris Bosh
5. Heat: Dwyane Wade
6. Clippers: Chris Kaman
7. Bulls: Kirk Hinrich
8. Bucks: T.J. Ford
Granted, guys like Kaman, Hinrich and Ford are solid starter types, but 'Melo, Bosh and Wade are superstars. The Pistons would have been better off with anyone on this list, but had they drafted one of the next three guys, they'd have a player to build around right now.
I understand why Dumars passed on Anthony. He had just drafted Tayshaun Prince and the team was happy with his progress. The word in 2003 was that Detroit was worried about Carmelo coming in and screwing with the Pistons' vaunted chemistry. Fine.
I understand why Dumars passed on Wade. The Pistons already had a very solid shooting guard in Richard Hamilton who averaged almost 20 points per game the previous season. In 2003, Rip was just 25 and entering his prime. Plus, Wade surprised a lot of people with how good of a pro he became. His jumper wasn't up to snuff and he hadn't yet revealed just how good he was at taking the ball to hole. Fine.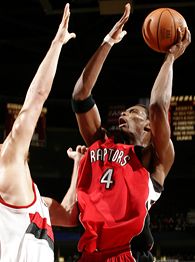 But I have no Earthly clue why Joe Dumars passed on Chris Bosh. At the time, he was a one-and-done, 6'10", 19 year-old who played at Georgia Tech. He averaged 15.6 points, 9.0 rebounds and 2.2 blocks in the best collegiate conference in the country, earning All-ACC 2nd Team honors. Moreover, he led the conference with 56% field goal shooting, becoming only the second freshman (Antawn Jamison) ever to do so.
That's not the longest resume, but it's damn impressive. It's certainly better than anything Milicic brought to the table. Dumars fell in love with Milicic's international mystique and it cost him. Big time.
In 2003, Rasheed Wallace and Ben Wallace were the Pistons' post players. Both guys were getting older and the franchise needed a big man. Bosh would have been a perfect fit. Had the Pistons gone that route, they would have been serious contenders heading into this season and wouldn't have had to trade their best player — Chauncey Billups — away to clear cap space for a free agent run this summer or next.
Everyone knows that the Milicic pick was a huge mistake, but Dumars gets a pass because he built a great team that went on to win the 2004 NBA championship. He also managed to turn Milicic into Stuckey, who looks like a solid player.
But he's no Chris Bosh. How many championships would the Pistons have won with Bosh in tow? They lost in seven games to the Spurs in 2005, and the 2006 Finals featured two flawed teams in the Heat and the Mavs. They probably would have represented the East in the 2007 Finals as well. (The Cavs were swept by the Spurs that year.)
Detroit could have won one, two, or maybe even three (or more) titles. They might have been a dynasty.
The Pistons are currently 25-27 and have lost eight straight games. Dumars has cap space to use this summer or next, so he could conceivably land a big man like Carlos Boozer, Amare Stoudemire or…(gulp)…Chris Bosh.
Keep your fingers crossed, Pistons fans.