Knicks suddenly busy on deadline day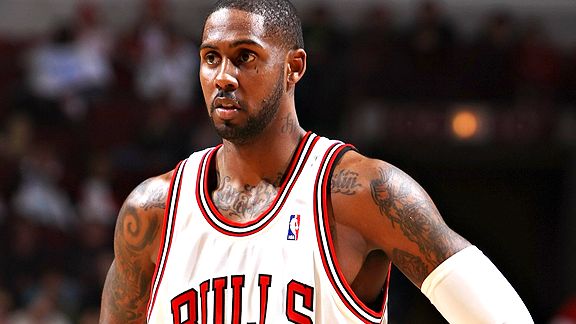 The New York Knicks were suspiciously absent from lot of the trade rumors that have been flying the last few days, but that's mostly because they weren't in play for any of the big names. They've pulled off two deals and may pull off a third…
The Knicks have swung two deals.

No. 1: Tim Thomas, Jerome James and Anthony Roberson to Chicago for Larry Hughes

No. 2: Malik Rose and cash to Oklahoma City for Chris Wilcox
The contracts of Thomas, James and Hughes expire after next season, so in the first deal it looks like the Knicks are trying to make themselves better with Hughes. (I guess.) Rose and Wilcox both have deals that expire this season, so it appears that they'd like to add Wilcox to the mix in the frontcourt. He's better than Rose, so it's probably a good move depending on how much cash they had to throw at OKC.
The Knicks may also make a third trade:
Sources say the Kings have offered Kenny Thomas for Nate Robinson and Jared Jeffries. If the Knicks could move Jeffries, it would clear another $6.8 million in the summer of 2010.

The Knicks would have to give up the talented Robinson and eat Thomas' $8.7 million salary next year … but it's probably worth it to the Knicks. Especially now that they've shored up their offense with the deals for Larry Hughes and Chris Wilcox.
So the Knicks would part ways with the diminutive but talented Nate Robinson in order to give themselves even more cap space in the summer of 2010. This deal might be the result of the possibility of the cap decreasing over the next two years. The Knicks may be looking at their books and realizing that they can't pay David Lee, Nate Robinson and have enough left over to sign two big-name free agents next summer.
If they were to pull off this trade, they would be on the hook for only $16.7 million heading into next summer. Assuming the cap ends up at $56 million (or so) that leaves $39 million in cap space. If they can sign Lee to a deal averaging around $8 million per season, that leaves $31 million for a superstar or two.