Pay attention! #3 North Carolina visits #5 Duke tonight on ESPN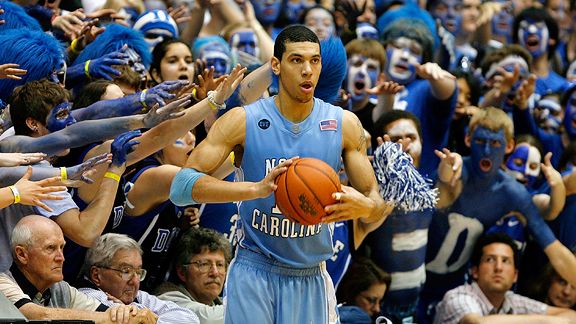 This is how a Duke/North Carolina matchup is supposed to be. Both teams are ranked in the top five, they're tied for first place (at 7-2) in the ACC, and the winner will have the inside track to the conference championship. The game takes place at Cameron Indoor Stadium, a venue that even Duke haters will admit has set the standard for home court advantage. Duke was one of the first schools (if not the first) to put the student body front and center and that atmosphere has played a huge part in the Blue Devils' success over the past two decades. (Though it should be noted that, with a win, Tyler Hansbrough could go 4-0 at Cameron in his career, so North Carolina has owned Coach K Court of late.)
Duke is just 2-2 over its last four games with a tough two-point loss at Wake Forest and a disastrous blowout loss at Clemson. They almost lost three of their last four as they trailed Miami by 16 (at home!) in the second half, but they made a big comeback and won that game in overtime. Gerald Henderson continues to play great basketball. He is averaging 18.6 points over the last 13 games. Duke needs solid contributions from Kyle Singler, Jon Scheyer and the rest of the supporting cast if they hope to beat the Tar Heels.
Meanwhile, North Carolina is currently riding a seven-game winning streak, which featured wins against a scrappy Florida State team in Tallahassee and a blowout win against Clemson at home. Wayne Ellington has really come on over the last 11 games, averaging 18.1 points in that span. Ty Lawson and Tyler Hansbrough continue to play solid ball while Danny Green is the wild card.
ESPN starts its coverage at 9 PM ET. They're also broadcasting the Syracuse/UConn game at 7 PM. Hopefully, that one won't run long — I'd hate to miss the tip-off in Durham.