For Knicks, Randolph trade is all about 2010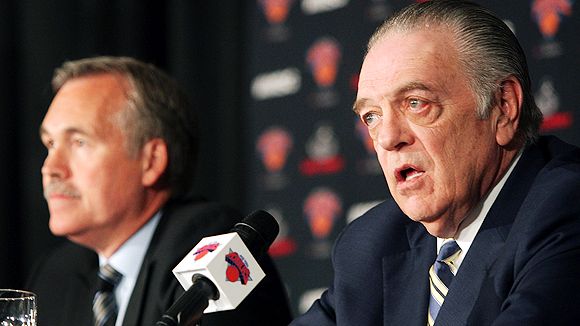 GM Donnie Walsh has pulled the trigger on another trade. After trading Jamal Crawford for Al Harrington, Walsh sent Zach Randolph and Mardy Collins to the Los Angeles Clippers for Cuttino Mobley and Tim Thomas. The Knicks have long been looking to rid themselves of Randolph and his fat contract (which runs an additional two seasons at the tune of $33 M), even going so far as to "feature" the forward this season, allowing him to post near-career numbers (20.5 points, 12.4 rebounds), despite shooting just 43% from the field. If there are any Knicks fans wondering why Mike D'Antoni was playing Randolph 35 minutes but only giving 28 to David Lee, this is probably the reason why.
By allowing Randolph to lead the team in scoring and rebounding, the Knicks were simply baiting another team to trade for him. In this case, it was the Clippers that came knocking. The team is 2-11, and still clearly reeling from offseason loss of Elton Brand. Randolph is sort of a "Brand Lite," in that he can do a lot of the same (offensive) things as Elton, he just can't do them very efficiently.
But this trade should be examined from a fiscal standpoint, because in this case it's all about the money. Mobley and Thomas both have contracts that expire in the summer of 2010, when a number of high-profile free agents (including LeBron James) should hit the free agent market. By trading away Randolph, the Knicks are now only on the hook for $20 million. In fact, no Knick is currently under contract for the 2010-11 season, but Eddy Curry ($11.3 million) and Jared Jeffries ($6.9 million) are likely to exercise their player options. And based on his improved play this season, the team is likely to exercise its option on Wilson Chandler's rookie contract. These three deals roughly equal $20 million. There is also Danilo Gallinari's rookie contract to consider, but the team will likely take a wait-and-see approach given the young forward's balky back.
The trade also allows the Knicks to re-sign David Lee and Nate Robinson if they choose to do so. Over the past couple of seasons, the conventional wisdom was that the franchise would not be able to keep both players if they hoped to have the necessary salary cap space to make a run at one or two big-name free agents in 2010. With only $20 million committed, the Knicks could sign one or both players, but they need to be careful not to overpay.
Lee's Player Efficiency Rating (PER) is down from a terrific 18.18 last season to a below-average 14.25 this season. Looking at his stats, his numbers have taken a dive in two categories: rebound rate (17.5 to 12.9) and true shooting percentage (60.6 to 56.2). The TS% is not guaranteed to bounce back, but with the departure of Randolph, there should be plenty of rebounds for Lee to gobble up.
So what is he worth? Well, it would be a coup if the Knicks could sign the 6'9" forward to a deal somewhere in the range of $6-$7 million per season. He'd be a nice fit alongside LeBron on the front line, but the truth is that Lee is the kind of player that can fit in with just about anyone.
While Lee has struggled with some of his numbers this season, Robinson is having a career year in D'Antoni's system. His PER (18.07) represents a healthy jump from his numbers last season (15.70) and is currently the 12th-best amongst point guards. This rise can be mainly attributed to his better shooting and passing under D'Antoni.
Robinson has shown promise, he's still just 5'9", so the Knicks need to be careful not to pay him the kind of salary that a bigger guard (posting similar numbers) would command. Still, his production in D'Antoni's offense has been terrific, so a salary in the $5-$6 million range seems appropriate if the team views him as its point guard of the future.
So, conceivably, the Knicks could have a core of Lee, Robinson and the improved Chandler, along with a payroll of about $33 million heading into the summer of 2010. Assuming a salary cap of $60 million (which is a conservative estimate), that's plenty of space to sign LeBron. Given the Nets struggles with the move to Brooklyn, it suddenly looks like the Knicks are LeBron's most likely landing spot. Playing in Manhattan would only serve to boost his monstrous profile – remember, he said his top goal is to be a "global icon" – and he's already comfortable with D'Antoni after the two worked together the last few summers as part of Team USA. Moreover, D'Antoni's up-tempo attack would be a perfect (and attractive) fit for LeBron's skill set.
The Knicks would have an additional $18 million in 2011 once the contracts of Curry and Jeffries are off the books, but if the team is able to rid themselves of those contracts prior to that fateful summer, or if they elect just to re-sign only Lee (or only Robinson) they would have the cap room to sign not one, but two superstars.
Just imagine a lineup of LeBron, Lee, Robinson and Chandler along with the likes of Dwyane Wade, Chris Bosh or Amare Stoudemire, and D'Antoni's decision to move to New York instead of Chicago becomes much more clear.