The official Ohio State-USC smack talk thread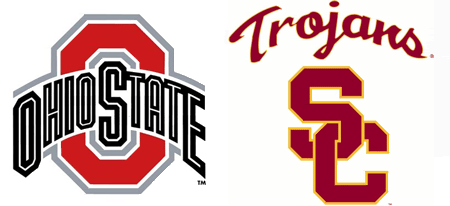 One of the most anticipated games on the 2008 college football schedule is now only days away as No. 5 Ohio State (2-0) travels to Southern Cal to take on Pete Carroll's No. 1 USC Trojans (1-0). Kickoff is set for 8:00 PM ET Saturday on ABC.
The biggest question surrounding this game is the health of OSU Heisman Trophy candidate Chris "Beanie" Wells, who sat out the Buckeyes' win over Ohio last week with a leg injury. Wells has been able to run in practice and is expected to play, but the team is still being cautious with their top offensive weapon.
The Trojans come into this game well rested after having last week off. In Week 1, they routed Virginia 52-7 and promptly climbed into the No. 1 spot in the polls. Quarterback Mark Sanchez threw for 338 yards and three touchdowns on 26 of 35 passing.
The smack talk for this game started back in July when former USC quarterback Carson Palmer ripped the Buckeyes despite playing professionally in the state of Ohio. A Los Angeles radio station was interviewing Palmer when he had this to say about OSU:
"I cannot stand the Buckeyes. It's amazing to hear what those guys think about that university and what they think about that football program and Tressel and all the crap I gotta put up with being back there.
I just can't wait for two years from now when SC comes to the 'Shoe and hopefully we'll have a home game that weekend, and I can go up there and watch us pound on them in their own turf.
I'm really getting sick of it, and I just can't wait for this game to get here so they can come out to the Coliseum and experience LA and get an old-fashioned Pac-10 butt-whoopin' and go back to the Big Ten."
Palmer backpedaled a bit, but the damage was done. His comments set the stage for an incredible matchup. Below is a complete list of Ohio State and USC blogs and information sites to get you primed for the matchup.
Top Ohio State Buckeyes Sites
Bucknuts
The Cleveland Plain Dealer
Around the Oval
BuckeyeBanter.com
The Buckeye Blog
Top USC Trojans Sites
LA Times: USC Trojans Page
Conquest Chronicles
WeAreSC.com
USC Trojans.com
FAN Nation: USC Trojan's Blog
The storied programs have played each other a total of 21 times, but it's been 18 years since their last meeting. USC beat OSU in back to back seasons in 1989 (42-3 in Los Angeles) and 1990 (35-26 in Columbus), as well as holds an 11-9-1 series edge over the Buckeyes. At the Coliseum, USC is 4-2-1 against OSU.
Oddsmakers have made USC a 10.5-point home favorite for Saturday night's game.