After a slow start, Redeem Team blows by Aussies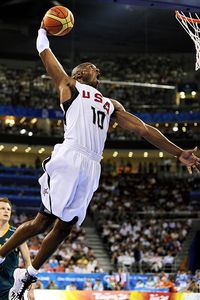 It wasn't pretty during the first quarter, as the U.S. men's basketball team struggled to make shots and to defend the three-point line. But a 14-0 run at the beginning of the second half broke the game open and the U.S. went on to win, 116-85.
Kobe Bryant led Team USA with 25 points on 10-16 shooting, including 4 of 7 from long range.
"Early in the game, they made a lot of tough shots," U.S. point guard Chris Paul said. "We were doing what we were supposed to be doing and they made tough shots, but sooner or later we'll impose our will. I don't know if you can keep up with us for 40 minutes."

LeBron James added 16 points for the Americans, who are guaranteed a chance to play for a medal. They need two more wins for their first gold medal in a major international competition since the 2000 Sydney Games.
The U.S. moves on to the semifinals where they'll face Argentina, who nipped Greece, 80-78, in the first round of the elimination bracket.
The Argentineans figure to be Team USA's toughest challenge in these Games. With Andres Nocioni, Luis Scola, Fabricio Oberto and Carlos Delfino, they have NBA-talent, and in Manu Ginobili, they have one of the best players in the world.