2008 NBA Draft Preview: Who should your favorite team draft?
The lottery has come and gone, and the Finals are over, so it's time to look ahead to the NBA Draft. The Bulls were the big winners in the lottery, overcoming steep odds (1.7%) to win the #1 pick. Each team has to make the best of their current situation, which means they need to quit thinking about what might have been and start thinking about what could be. This year's draft is believed to be deep, but like last season, there are two (seemingly) clear choices at the top of the draft. Since there is so much parity after the first two picks, a team picking #13 might get the fourth or fifth guy on their draft board.
While most mock drafts try to predict what team will do, we'll focus on what a team should do. This means that our mock will probably be horribly inaccurate, but it's more fun to play GM than it is to try to predict the future. As with the NFL Draft, GMs are putting up so many smokescreens that it's almost impossible to determine a team's true intentions, but we can identify a team's strengths and weaknesses and try to find the best piece for their championship puzzle. This year, we'll have the valuable insight of Rich Zvosec, who has decades of coaching experience and two Division I Coach of the Year awards – one from the Northeast Conference and the other from the Mid-Continent Conference. He is currently an analyst for the Big Ten Network, while also contributing to the Scores Report.
We'll also describe each team's salary cap situation and outline a loose offseason blueprint. Keep in mind that the cap will probably fall in the $56 million to $60 million range, so if your team is over the cap, its ability to sign free agents is severely limited.
The NBA Draft is scheduled for Thursday, June 26.
1. Chicago Bulls (33-49)
Team needs: PF
2008-2009 payroll: $49.5 M
THEY SHOULD PICK: Michael Beasley, F, Kansas State
Coach Z's scouting report: Scorer deluxe who can use both hands around the rim… lefty who makes defenders miss… needs work defensively, but has good anticipation skills away from the ball… will have an immediate impact because of his rebounding prowess… his jump shot will become more consistent as will his handle with time… look for him to be a double-double guy in the pros…
What they're thinking: Given their current roster, Beasley is a better fit than Derrick Rose. They already have a good point guard in Kirk Hinrich, though he is coming off a bad season, so it's possible that they'll go with Rose, a Chicago native. Beasley, who measured longer (and taller) than expected at the combine, would give the Bulls the low post scorer that they've been searching for since their bonehead move to trade Elton Brand to the Clippers for Tyson Chandler. He can also shoot it from deep.
Offseason blueprint: The Bulls have a roster loaded with talent and are poised for a quick turnaround. They must lock up Luol Deng and make a decision about Ben Gordon's future with the team. The Beasley/Rose decision will have a huge impact on the roster, and it will depend heavily on how the team feels about Hinrich and their young power forward, Tyrus Thomas.
2. Miami Heat (15-67)
Team needs: PG, C
2008-2009 payroll: $53.4 M
THEY SHOULD PICK: Derrick Rose, PG, Memphis
Coach Z's scouting report: Strong point guard who plays with much physicality… must become more of a distributor, looks to score when going to the hole… needs more consistent jumper and more leadership for others in the half court… will eventually become an All-Star, but needs some seasoning to have a major impact…
What they're thinking: They should take whomever the Bulls leave them. Either player will fit alongside Dwyane Wade (who is more effective off the ball) and Shawn Marion. If Rose is the guy, the Heat could have the best backcourt in the league in 2-3 years. If Beasley is the pick, he should complement Shawn Marion nicely. The two forwards are approximately the same size, but have very different games. But the team has obvious interest in O.J. Mayo and he and Dwyane Wade have become fast friends. It would be a mistake to pass on either Rose or Beasley here for Mayo, who has a Wade-like game and also has some character issues. (Of course, Beasley has some character concerns as well. He just hasn't been in the spotlight as much as Mayo has.)
Offseason blueprint: Like the Bulls, the Heat are poised for a big turnaround next season. With a healthy Wade, Marion and whomever they get at #2, they'll have a nice core to build around. The team has an interesting decision to make with Marion, but assuming he plays out his contract, they'll have a half-season to see if he gels with Wade and Beasley/Rose. If not, Marion would be terrific trade bait to acquire another young prospect or two.
3. Minnesota Timberwolves (22-60)
Team needs: PG, SF, F/C
2008-2009 payroll: $55.1 M
THEY SHOULD PICK: Kevin Love, PF, UCLA
Coach Z's scouting report: Too small, too slow, too streaky… these labels are applied to any non-athlete that enters the league… can rebound it without jumping and can make shots when it counts… good low post passer… if he remakes his body he could become an All-Star, if not he'll be a solid 10-year player… ability to rebound and pass will make him an asset on any team…
What they're thinking: The Timberwolves could go a number of different directions with this pick depending on how they view their two "tweeners" (Al Jefferson and Randy Foye). Jefferson is a bona fide star on the rise, and the team needs to decide if they want him to play power forward or center. He's definitely a back-to-the-basket guy, so if it's the latter, Kevin Love would be a terrific choice to play alongside Jefferson and Randy Foye. Love has remade his body and tested surprisingly well at the combine. He's a good shooter, a wonderful passer, and can score down low. GM Kevin McHale may take a bigger risk and go with O.J. Mayo or another prospect with more upside, but the 'Wolves need solid picks and Love will be as solid as it gets at #3.
Offseason blueprint: He took some grief, but Kevin McHale did pretty well for himself by garnering Jefferson in the Kevin Garnett deal. Now he has a great young player to build around. Foye is supposed to be his sidekick, but he has been decidedly average thus far in his career, so if Mayo impresses in the workouts, he could be the pick. The Wolves won't have significant cap space until next summer, so expect another year at the bottom of the West.
4. Seattle (for now) Supersonics (20-62)
Team needs: PG, SG, C
2008-2009 payroll: $48.4 M
THEY SHOULD PICK: O.J. Mayo, SG, USC
Coach Z's scouting report: So much has been written about him since high school… a poster child for someone hurt by going to college, since teams draft on potential… great skills and a tremendous athlete… scores in different ways… long range and off the bounce… questionable head… sometimes makes bad decisions that lead to him forcing shots and taking his teammates out of the game… with the right guidance, he could become a great one…
What they're thinking: The team is building around Kevin Durant and Jeff Green, so both forward spots are pretty much spoken for. This pick is probably going to be Mayo or Jerryd Bayless, whomever the team thinks will jive best with Durant. Word on the street is that it's going to be Bayless.
Offseason blueprint: The team will have about $10 million in cap space, so they could be a player in free agency, but they are unlikely to sign any older established stars. The team could make a strong push next summer for a big free agent when they project to have a ton of cap space and three young stars (assuming this pick pans out, of course).
5. Memphis Grizzlies (22-60)
Team needs: C, PF, SG
2008-2009 payroll: $44.0 M
THEY SHOULD PICK: Jerryd Bayless, G, Arizona
Coach Z's scouting report: Inconsistent for most of the season… could have used another year of seasoning, but with money waiting it was time to move… a modern day Kevin Johnson… better shooter than Rose, but not the leader Rose is… will develop into a good pro… won't be an All-Star for at least 5 years… needs to make better decisions with the ball…
What they're thinking: Memphis is building around Rudy Gay and (presumably) Mike Conley, so Bayless' quickness would be tough to pass up if the team is serious about pushing tempo. If Bayless is gone (or even if he's there), Mayo or Love might be the pick. Bayless has been impressing just about everywhere he plays and an Arizona insider told us that he has a chance to be special.
Offseason blueprint: There were rumors about Mike Iavaroni losing his job after only one season. Couple that with the team's decision to trade away Pau Gasol for peanuts, and it's clear that this is a franchise lacking leadership and direction. They could run Mike Miller at small forward and Rudy Gay at power forward (with Hakim Warrick coming off the bench), but they still need a big man who can run. Rumors continue to fly about Mike Miller being traded, but I don't know why you'd trade away one of the best shooters in the game, especially considering his very affordable contract. But these are the Grizzlies we're talking about, so anything is possible.
6. New York Knicks (23-59)
Team needs: SF, PG, C
2008-2009 payroll: $91.0 M
THEY SHOULD PICK: Russell Westbrook, PG, UCLA
Coach Z's scouting report: Reminds me of Rod Foster… as quick as they come from end to end… a bit out of control on the offensive end… a top notch defender and solid passer… needs to develop a solid jumper and midrange game to be an impact in the long term…
What they're thinking: Mike D'Antoni will want a guard who can push the ball, and Westbrook is one of the best athletes in the draft. He's extremely fast and is an improving playmaker. They could opt for more of a pure point guard like D.J. Augustin, but this is early for him. They could also draft on potential (Anthony Randolph) or duplicate their strengths (by selecting Eric Gordon when they already have Jamal Crawford). Joe Alexander is another possibility and he fills a need at small forward.
Offseason blueprint: Is it time for the turnaround? It's going to be difficult to reshape this roster given the team's salary cap situation and there are a number of players that don't fit D'Antoni's style and have brutal contracts to boot. Stephon Marbury's contract comes off the books next summer, but Zach Randolph is signed through 2011 and Eddy Curry has a two-year player option in 2010.
7. L.A. Clippers (23-59)
Team needs: PG, SG, PF (?)
2008-2009 payroll: $44.8 M
THEY SHOULD PICK: Eric Gordon, SG, Indiana
Coach Z's scouting report: Strong and aggressive and a bear when going to the hoop… good at creating contact and getting the call, but may not get as many in the NBA… tremendous deep 3 shooter early in season, but fell off… showed great potential early in the season but played poorly down the stretch… bad shot selection might keep him from reaching his considerable potential…
What they're thinking: With Corey Maggette likely on the way out, there's a hole on the wing that Gordon can fill. The team also needs a point guard, but it would be difficult to pass on a guy of Gordon's upside to reach at another position. Plus, there should be a few good point guards available this summer.
Offseason blueprint: Much depends on Elton Brand. If he plays out his contract, the Clippers can draft Gordon and continue to build around Brand, Chris Kaman and Al Thornton. A good point guard would allow them to compete in the West. If Brand opts out, the team would have a ton of cap space to spend on free agents, though that's not the way to build a winner.
8. Milwaukee Bucks (26-56)
Team needs: SF, PF
2008-2009 payroll: $62.4 M
THEY SHOULD PICK: Joe Alexander, SF, West Virginia
Coach Z's scouting report: With another year in college, he might have developed into a more athletic Wally Szczerbiak… great athlete who competes on every play… Bobby Huggins and John Beilein prepared him well… needs better range on his jumper and quicker feet on defense… also needs to develop his handling skills to become a star…
What they're thinking: With Desmond Mason and Bobby Simmons on the roster, small forward is the most pressing need for the Bucks. Alexander is a phenomenal athlete, and his competitiveness would fit well with Scott Skiles' coaching style. His stock is rising and he was tough as a bear in the NCAA tournament. He is strong and fiery, and his tenacity would be infectious. Russell Westbrook and Kevin Love are distinct possibilities, if they're available. Danilo Gallinari is another player that would fill a need.
Offseason blueprint: Andrew Bogut is developing into a very good center, so the question is – are the Bucks building around Bogut, or are they building around Bogut and Michael Redd? With the supporting talent – Mo Williams, Yi Jianlian and Charlie Villanueva – of a playoff team, new GM John Hammond will likely make a trade or two, but expect him to see how Bogut, Redd and Skiles mesh before parting with one of the bigger pieces.
9. Charlotte Bobcats (32-50)
Team needs: C (or PF), SG
2008-2009 payroll: $46.6 M
THEY SHOULD PICK: Brook Lopez, C, Stanford
Coach Z's scouting report: Seven-footers with good feet and great hands are hard to find… strong and has a nice touch… only a decent athlete… has a nose for the ball off the glass… will be a decade-long pro and will continue to improve… his ability to run the floor will make him valuable in anybody's system…
What they're thinking: The Bobcats have been talking for years about moving Emeka Okafor to power forward and Lopez will allow them to do that. The team is set with Ray Felton, Jason Richardson, Gerald Wallace and Okafor, so expect a frontcourt pick here. The Bobcats may also move the pick for a veteran who can provide immediate help. The team needs a shooter or two to space the court. The stock of France's Alexis Ajinca is on fire, so he could be a surprise pick at #9.
Offseason blueprint: With turnaround-specialist Larry Brown at the helm, the Bobcats are poised for good things next season. They have a good, young core of players but need a strong post player and better bench development. The Bobcats are well under the cap, so they have the money to sign a big-name free agent if the right guy (Elton Brand?) becomes available. Charlotte is a candidate to make the playoffs in the dilapidated East.
10. New Jersey Nets (34-48)
Team needs: PF, SG, SF
2008-2009 payroll: $51.8 M
THEY SHOULD PICK: Danilo Gallinari, SF, Italy
Coach Z's scouting report: Fran Frashilla loves his versatility which might mean that he's a jack of all trades and master of none… since the competition is so different, foreign players are so tough to gauge…
What they're thinking: Who are the Nets building around? Richard Jefferson? Vince Carter? Devin Harris? There have been rumors that the team is interested in moving Jefferson, so Gallinari would be a young guy that could eventually replace him. He said that he mainly wants to play for the Knicks or the Nets, and he didn't withdraw from the draft, so the thinking is that the Nets might have made him a promise to take him at #10.
Offseason blueprint: The Nets got good return on Jason Kidd. In Harris, they have a lightning-quick point guard to build around. They need to get rid of Carter and build around Harris and Jefferson. They'll have some salary cap space this summer and even more next summer, but Carter's contract (three years, $48.8 M) puts the team in a tough spot.
11. Indiana Pacers (36-46)
Team needs: PG, SG, C
2008-2009 payroll: $69.5 M
THEY SHOULD PICK: D.J. Augustin, PG, Texas
Coach Z's scouting report: Nobody dribbled the ball more in college than he has… sometimes he looked like Marques Haynes… will need to get stronger and better on the defensive end… the best passer of all the point guards in the draft… will be a solid addition for someone…
What they're thinking: The Pacers want to push tempo, but Jamaal Tinsley isn't the answer. Augustin is a terrific playmaker and is great in the open court, so he's an easy choice for the Pacers.
Offseason blueprint: Indiana's two best scorers – Danny Granger and Mike Dunleavy – are both small forwards, so Dunleavy has to play out of position. Jermaine O'Neal didn't opt out, so he's locked in for two more years. A starting lineup of Augustin, Dunleavy, Granger, Diogu and O'Neal would be competitive in the East, but the team has been reluctant to give Diogu big minutes. The Pacers aren't going to have any cap flexibility for two or three more years, so they have to improve via the draft and trades.
12. Sacramento Kings (38-44)
Team needs: PF, C, PG
2008-2009 payroll: $57.3 M
THEY SHOULD PICK: Anthony Randolph, PF, LSU
Coach Z's scouting report: Being drafted solely on potential… very long and rangy… shot blocker in college, but lack of strength will limit him in the pros… to compare him to Lamar Odom or Tayshaun Prince is an insult to them… raw as a garden full of carrots…risky pick, as bulking up will be his biggest challenge…
What they're thinking: Don't rule out D.J. Augustin here, if available. The team is building around Kevin Martin, so the Kings could draft at any position other than shooting guard. Francisco Garcia appears to be the small forward of the future, and the team drafted center Spencer Hawes last season, so drafting Randolph to fill a need at power forward seems like a likely scenario. The scouts are drooling over this kid's potential, but he's an extremely risky pick here. ESPN's John Hollinger, who uses a series of metrics that does a pretty good job of predicting NBA success, is really down on Randolph, so either he or the scouts are going to look foolish. Darrell Arthur would be the safer pick here.
Offseason blueprint: The Kings won 38 games last year in the competive West despite losing Martin and Ron Artest for a combined 46 games. They won't have any significant cap space until next summer, so the team is in a holding pattern until then. They'll keep trying to acquire good, young players until they can add an impact vet to push them back into the playoffs.
13. Portland Trailblazers (41-41)
Team needs: PG, SF
2008-2009 payroll: $75.1 M
THEY SHOULD PICK: Brandon Rush, GF, Kansas
Coach Z's scouting report: Great kid, which can be both good and bad… he'll be a good teammate, but doesn't always have the edge you need… capable of ESPN highlights and Rip Van Winkle lowlights… consistency and strength will be key… if he develops the "edge" he will be an All Star… potential All-Defense performer… no edge, no glory…
What they're thinking: The Blazers are set for the next decade at off guard (Brandon Roy), power forward (LaMarcus Aldridge) and probably center (Greg Oden). Travis Outlaw is probably starter quality, but Rush would provide excellent shooting and good all-around play at the small forward position. D.J. Augustin would be a very nice fit, so if he's available, the Blazers could bite. Rush has been impressing of late and his stock is rising. He'd be a nice addition to the Roy-Aldridge-Oden core.
Offseason blueprint: Build, build, build, then acquire an impact vet. The Blazers need a point guard, but with Roy's handle it isn't too pressing. Sergio Rodriguez is the wildcard at that position. After next summer, they'll have a ton of salary cap flexibility once Steve Francis and Raef LaFrentz are off the books. Could the Blazers be one of the darkhorse candidates to sign LeBron James if he were to opt out in the summer of 2010? Can you imagine a core of LeBron, Roy, Aldridge and Oden in two or three years? If LeBron opts out, he'll probably want to play in a big market, but the Blazers could give him the supporting cast he needs to win a title or three.
14. Golden State Warriors (48-34)
Team needs: C, SG, SF
2008-2009 payroll: $47.2 M
THEY SHOULD PICK: Kosta Koufos, C, Ohio State
Coach Z's scouting report: I love the fact that everyone plays on his Greek heritage even though he grew up in Canton, Ohio… developed a decent inside game this year at OSU… could have used one more year there… outside shot and versatility will make him a player in the league… plays like a Greek, but with the determination of a Canton steelworker… his consistency will make him an All Star…
What they're thinking: Assuming Baron Davis and Monta Ellis come back, the Warriors' biggest need will be in the frontcourt, but all the athletic centers available at this point in the draft are projects. The franchise didn't do very well with Patrick O'Bryant, so Koufos (who is more skilled) might be a safer option than the "big upside" guys. There is talk that he'd be a top 5 pick if he returned to OSU and entered the draft next summer. The Warriors would love his shooting and versatility, and Don Nelson has indicated he wants to add a frontcourt player this offseason. The other option is to take a wing player or potentially D.J. Augustin if they lose a point guard to free agency.
Offseason blueprint: The Warriors seem like a good team that isn't going anywhere. Baron Davis makes them go, but he's overpaid and needs to scale down his expectations if Golden State is to re-sign him. He and Ellis make a formidable backcourt, and Brandan Wright and Andris Biedrins are good, young posts, but the team doesn't really have a back-to-the-basket threat or the defensive intensity necessary to win consistently. With only seven players under contract for next season, the Warriors could have a number of new faces come training camp. This is a team that could go any number of different directions.
15. Phoenix Suns (55-27)
Team needs: SF, SG, PG
2008-2009 payroll: $70.4 M
THEY SHOULD PICK: Marreese Speights, FC, Florida
Coach Z's scouting report: A tall drink of water with a sweet shot… kind of a tweener with questionable upside… needs to get stronger to be able to bang around inside and maintain position on the block… the knock is that he gets complacent at times and has low basketball IQ… not a good sign if he loses focus…
What they're thinking: The Suns need to add a wing player who can shoot the ball and contribute immediately. If both Gallinari and Rush are gone, they might go with Donte Green, but he only shot 42% from the field last season. The Suns should try to move up to grab Gallinari or Rush, or they might trade the pick for a veteran that can fill that role. If not, they should take the best player available, which might be Speights, who is a decent athlete that can really shoot the ball and thrives in the pick-and-roll.
Offseason blueprint: It's funny – after years of giving away their first round picks, the Suns are suddenly pushing to get younger. The team is on the hook for two more years of Shaq's monster contract, which is $20 million per season, so the team won't have any cap flexibility until he's off the books. It's clear they want to make another run with the current group, but they need to add a shooter or two to space the court. Other than James Jones, there is no one on the unrestricted free agent market that fits the bill, so the team might have to work out a sign-and-trade (and give up a good, young player like Boris Diaw or Leandro Barbosa in the process). Trading Barbosa away seems counterintuitive.
16. Philadelphia 76ers (40-42)
Team needs: PF, PG, C
2008-2009 payroll: $34.6 M
THEY SHOULD PICK: Darrell Arthur, PF, Kansas
Coach Z's scouting report: Bill Self told me at an early season practice that he was an NBA player, but my thought was he was too inconsistent… down the stretch he was as consistent as anyone… did a great job of taking what was given to him… good athlete who has scoring skills around the basket… great quicks and hops will help him continue to get better… if he can expand the range on his jumper, he'll become a good player in the NBA…
What they're thinking: The Sixers ended up with Jason Smith out of last year's draft, but he didn't show much at power forward, so that is still the team's biggest need. Arthur was great for Kansas for much of the year and should be a safe pick at #16. Marresse Speights is another option here.
Offseason blueprint: The Sixers are one of the few teams in position to offer Elton Brand a substantial contract and there is interest in both sides. If he opts-out, the team could plan to offer him big contract and use the pick elsewhere. If they can land Brand, Philly should make a big move in the East. Brand fancies himself a multimedia mogul, so he may want to stay in Los Angeles to explore that business. It might be wise for him to take the final year and prove that his knee is good before entering the free agency market. The team also needs to find an eventual replacement for Andre Miller, who is 32. Kansas' Mario Chalmers is another possibility if the team doesn't think that Louis Williams is a pure (enough) point guard.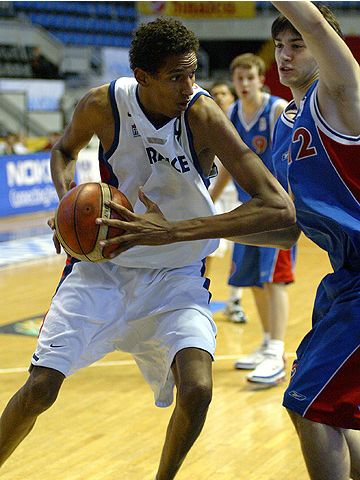 17. Toronto Raptors (41-41)
Team needs: SG, C, SF
2008-2009 payroll: $55.8 M
THEY SHOULD PICK: Alexis Ajinca, C, France
JP's scouting report: Ajinca has been impressing just about every team he works out for and is faring very well against the other "upside bigs" in this draft class… he's a lean, agile seven-footer who can run the floor and block shots… he has the makings of a post game, but he's not there yet…
What they're thinking: The Raptors are building around a PG/PF combination of Jose Calderon and Chris Bosh. Andrea Bargnani has just been so-so thus far in his career, so popular opinion is that the team will go big with this pick. They could also use a shooting guard to eventually replace Anthony Parker, who is getting on in years, so guys like Brandon Rush (if available), Courtney Lee and Chris Douglas-Roberts are possibilities as well. Donte Greene is a possibility if the team wants to shore up the small forward position.
Offseason blueprint: The Raptors have the right idea locking up Calderon and using T.J. Ford as trade bait. If they're truly looking to become Suns-East, they should run Bosh at center and try to find a Shawn Marion-type to play power forward. (Hey, how about a T.J. Ford + ? for Marion swap with the Heat?) Barring a big move, they should have the salary cap flexibility next summer to sign a big-name free agent depending on what they decide to do with Barngani. Jamario Moon also deserves a long-term deal. It's important to note that with the way Calderon shoots the ball, the Raptors need to have at least one slasher-type on the wing to free up Calderon for open jumpers.
18. Washington Wizards (43-39)
Team needs: SG, ?
2008-2009 payroll: $38.4 M
THEY SHOULD PICK: Roy Hibbert, C, Georgetown
Coach Z's scouting report: Poster child for not coming back an extra year… should have struck while the iron was hot last year… has the size, bulk and court sense to be a very good player… speed will determine his success level… I like that he got his degree and played one more year of college.. I think he will have more of an impact than any other seven-footer in this draft…
What they're thinking: The Wizards' draft will depend on the possibility of re-signing Antawn Jamison and Gilbert Arenas, so there is no telling what they'll do. They drafted Nick Young to be the future at shooting guard, so they may look to go big here with Hibbert. He is a skilled post player and would bring more to the table than Brendan Haywood. If they lose either Arenas or Jamison, look for them to shore up one of those positions.
Offseason blueprint: Washington is a team at a crossroads. The trio of Arenas, Jamison and Caron Butler hasn't gotten the Wizards very far and the team is flirting with signing both Arenas and Jamison to long-term contracts. This might guarantee a competitive team that doesn't have much of a chance to go anywhere in the playoffs. Still, if those three can stay healthy, Nick Young develops, and the team can land another impact player (or two) in the draft, they could challenge in the East. It's dicey to sign a player like Arenas to a long-term deal when he's coming off a knee injury. With a questionable knee, he's not necessarily a "franchise" player so the team would be wise to offer him a less-than-max contract, though Agent Zero would likely take that as disrespectful.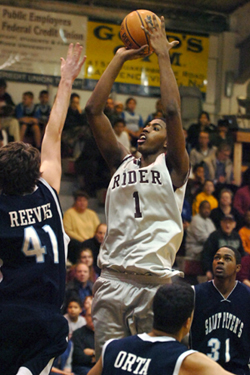 19. Cleveland Cavaliers (45-37)
Team needs: PF, PG, C
2008-2009 payroll: $74.8 M
THEY SHOULD PICK: Jason Thompson, PF, Rider
Coach Z's scouting report: Pundits will knock his competition at Rider… all I know is that he averaged 20 and 10 for 2 years… Long and athletic with a desire to get better will make him a 10 year pro… love his bounce and nose for the ball… rebounds and blocks shots well… could be the sleeper in the draft…
What they're thinking: Rumor has it that the Cavs are hoping Koufos drops to them, but Thompson would be an interesting pick that should be able to help right away. He's a good all-around player with a great work ethic. He's long and athletic, and is a good defender. He can also knock down the mid-range jumper, which is a bonus with LeBron James' playmaking skills.
Offseason blueprint: Thus far, the Cavs have failed to give LeBron a good supporting cast. They found something in Delonte West, so if the team is committed to him, they may have filled a hole at point guard. With Zydrunas Ilgauskas and Ben Wallace getting on in years and Anderson Varejao's future uncertain, the Cavs would be wise to go big with this pick. With LeBron, West and Daniel Gibson, Cleveland is doing okay on the perimeter. They won't have any serious cap space until the summer of 2010, when Wallace's monster contract comes off the books. Unfortunately, that's the same summer that LeBron can opt out of the final year of his contract, so they have to make progress with the roster over the next two years to avoid that catastrophe.
20. Denver Nuggets (50-32)
Team needs: PG, PF
2008-2009 payroll: $76.9 M
THEY SHOULD PICK: Mario Chalmers, PG, Kansas
Coach Z's scouting report: Point guard who loves to score… doesn't really have the mentality to play the point… will need a distribution minded off guard next to him (a rarity in the NBA)… very good defender on the ball, falls asleep away from it… his big shot put him in the draft, but should have stayed in school to raise stock and refine role…
What they're thinking: The Allen Iverson/Carmelo Anthony marriage hasn't really worked, so the team should be looking for a good point guard to replace AI if the Nuggets are able to move him. Power forward is another option, so Denver may also look at Jason Thompson. Chalmers isn't a pure point guard, but a lineup that includes 'Melo, J.R. Smith, Chalmers and Marcus Camby would be pretty formidable if they can get their act together defensively.
Offseason blueprint: Denver should not trade 'Melo, despite the rumors. They need to find a taker for Iverson and build around Anthony, Marcus Camby and Linas Kleiza. Camby has also been (inexplicably) the subject of trade rumors. He is the team's best defender and is cheap (two years, $15.7 million remaining) compared to other centers. A great move would be to acquire T.J. Ford from the Raptors and let him distribute to 'Melo, Smith and Kleiza in an up-tempo attack. Kenyon Martin's contract (three years, $46.1 million) is one of the worst in the league, so the team won't have any real cap flexibility until he's off the books.
21. New Jersey Nets (34-48)
Team needs: PF, SG, SF
2008-2009 payroll: $51.8 M
THEY SHOULD PICK: Donte Greene, F, Syracuse
Coach Z's scouting report: Average year at Syracuse leads to a lottery pick… a typical 'Cuse athletic, long forward… shoots the three too much given his accuracy… don't know if he plays enough defense or has the toughness to grind out a career…
What they're thinking: Even if the Nets get Gallinari at #10, they might not pass up on Greene's upside if he slips this far. He's an athlete with great perimeter skills that could go a lot earlier.
22. Orlando Magic (52-30)
Team needs: SG, SG, SG
2008-2009 payroll: $54.9 M
THEY SHOULD PICK: Chris Douglas-Roberts, GF, Memphis
Coach Z's scouting report: I can't decide on him like he can't decide which last name to take… streaky shooter who can get on a roll… good defender but lack of strength will negate that at the next level… development of consistent deep shot and bulk will determine how far he goes…
What they're thinking: Orlando does have some other needs, but a good shooting guard is most pressing. One option would be to work out a sign-and-trade with the Clippers by sending this pick (and J.J. Redick?) to L.A. for Corey Maggette, who would be a terrific complement to Hedo Turkoglu on the perimeter. If they keep the pick, Brandon Rush would be ideal, but his stock continues to rise so he probably won't be available. Chad Ford thinks that Courtney Lee is the pick here, but Douglas-Roberts is the superior athlete and his slashing ability might be a better fit with Turkoglu, Jameer Nelson and Rashard Lewis roaming the perimeter.
Offseason blueprint: Orlando has a good core of players – Dwight Howard, Lewis, Turkoglu and Nelson – to build around, but things are a little thin after that. They're counting on Tony Battie coming back to provide some inside help, so they're likely to draft a shooting guard in the draft in the hopes of improving on the combination of Maurice Evans, Keith Bogans and J.J. Redick. This team needs one more good player and some maturity to become a serious contender in the East.
23. Utah Jazz (54-28)
Team needs: C, SG, SF
2008-2009 payroll: $60.5 M
THEY SHOULD PICK: DeAndre Jordan, C, Texas A&M
Coach Z's scouting report: Long athletic big man with no skills accept what his body gives him… rebounds and blocks shots okay for a big guy… has a lot of work to do offensively… he is being drafted on pure size and potential… someone is going to have to drill him day and night, but he should be worth the investment…
What they're thinking: Utah doesn't have too many weaknesses, so they can afford to take the best player here and not draft on need. They've gone with shooting guards (Ronnie Brewer and Morris Almond) in the last two drafts, so they would be wise to address the center position with this pick. There are a number of "upside" big bodies projected to go towards the end of the first round, so the Jazz should have their pick.
Offseason blueprint: Andre Kirilenko's salary (three years, $64.5 M) would be very difficult to move, so a trade partner would have to covet what he brings to the table. With Corey Maggette hitting free agency, the Jazz might make another run at him. (Maybe a sign-and-trade that includes Brewer would do the trick? Brewer is a fine young player, but he doesn't have the offensive skill set that Maggette has.) Utah also needs some beef inside – Mehmet Okur didn't get it done defensively in the playoffs. Besides the Lakers, this team has as good of a chance as anyone in the West of making the Finals over the next few years.
24. Seattle (for now) Supersonics (20-62)
Team needs: PG, SG, C
2008-2009 payroll: $48.4 M
THEY SHOULD PICK: Nicolas Batum, GF, France
JP's scouting report: Long and versatile… superior athlete… great quickness and leaping ability… inconsistent and a bit of a disappointment this season… needs to improve strength to be successful in the NBA…
What they're thinking: This late in the draft, how often does a team find a FC that actually pans out? They are few and far between, so the team would be wise to address another need here. If the team drafts Bayless at #4, they can afford to take Batum here to complement Bayless and Kevin Durant. If they go with Mayo, they might elect to take a point guard like Chalmers with this pick. Courtney Lee is another option.
25. Houston Rockets (55-27)
Team needs: PG, GF, C
2008-2009 payroll: $64.8 M
THEY SHOULD PICK: Courtney Lee, SG, Western Kentucky
JP's scouting report: Terrific scorer whose stock is depressed because he played in a smaller conference… wonderful form on his jumper and a knack for getting to the hole… athletically, he'll be average at the NBA level, but he's ready to contribute now… doesn't have as much upside as some other shooting guards at this point in the draft…
What they're thinking: The Rockets are (presumably) still building around Yao Ming and T-Mac, even though neither player is dependable enough physically to be built around. Anyway, McGrady can play either wing position, so the team could use a sharpshooter like Lee to help space the court for both of the team's stars. Chalmers is another option if available, though Aaron Brooks played pretty well in his rookie season. Lee is ready to help now, which is good because the Rockets' window is closing.
Offseason blueprint: Houston looks like one of those teams that is going to make the playoffs every year but won't go anywhere once they get there. Both McGrady and Yao are injury-prone, and it's tough to build around guys like that. They just have to hope they can get a healthy season out of both of them and pray that another player or two steps up their game. T-Mac's contract runs two more seasons and Yao's runs for three, so if things aren't looking good at the 2010 trade deadline, expect big changes.
26. San Antonio Spurs (56-26)
Team needs: PG, SF, FC
2008-2009 payroll: $53.6 M
THEY SHOULD PICK: JaVale McGee, C, Nevada
Coach Z's scouting report: Similar to Jordan in that he is all potential right now… drafting him is a vote for long and lanky… he's a seven-footer who can run the floor… a good start, but he is a work in progress and has a long way to go… his success will be determined solely on his perseverance through all the beef he is going to face… a star or a bust in the making…
What they're thinking: Big players that turn out to be good don't usually last this long, but McGee has enough upside for the Spurs to roll the dice. He has struggled in his workouts so he might slip this far. If Rush, Chalmers and Douglas-Roberts are all gone, the Spurs could go big. McGee can play center, or they might opt for someone like Jason Thompson or J.J. Hickson, if available.
Offseason blueprint: The Spurs obviously have to look to get younger, but it remains to be seen if they can get someone who can help right away (like they did when they landed Tony Parker late in the first round). The Spurs window is closing, so they'd like to find a mature shooter who can play defense. It remains to be seen if someone like that will be available this late in the round. They need to strike gold with a forward (or center if they still want to call Tim Duncan a power forward) to make another strong run.
27. New Orleans Hornets (56-26)
Team needs: SG, C
2008-2009 payroll: $59.8 M
THEY SHOULD PICK: Robin Lopez, C, Stanford
Coach Z's scouting report: Less polished half of Lopez twins… size and grit will keep him around as long as he wants… development of an offensive game will determine level of success… every team needs a big guy to look good in airports…
What they're thinking: Ideally, the Hornets would like to find a shooting guard here to eventually replace Morris Peterson, but with Rush, Douglas-Roberts and Lee gone (in this mock, anyway), the Hornets might look to the post, where they have Tyson Chandler, David West and not much else. Lopez is a defensive-minded center with a constant motor, which sounds a lot like Chandler.
Offseason blueprint: It's clear that the team is building around Chris Paul, David West and Tyson Chandler, with Julian Wright as the future as small forward. Peja Stojakovic and Morris Peterson are on the downswing, so the team needs wings that can shoot. With Peja's contract running another three years and $42.6 million, the Hornets won't have any cap space for some time, so they're going to have to find a gem or two in the draft or via trade.
28. Memphis Grizzlies (22-60)
Team needs: C, PF, SG
2008-2009 payroll: $44.0 M
THEY SHOULD PICK: J.J. Hickson, PF, NC State
Coach Z's scouting report: Long and strong with a good jump hook makes him a good gamble… lack of maturity and focus says otherwise… the head usually wins out… the game is still a mental test in a lot of ways… should be able to develop that part of the game if a team is willing to work with him…
What they're thinking: Hakim Warrick isn't very powerful for a power forward, so Hickson would be a nice addition to a roster lacking strength. He's a player that might have been a lottery pick had he stayed in school another year, so he's a good gamble here, with one of the picks that the Grizzlies got in the Pau Gasol trade.
29. Detroit Pistons (59-23)
Team needs: C, SF
2008-2009 payroll: $53.8 M
THEY SHOULD PICK: Nathan Jawai, FC, Australia
JP's scouting report: At 6'10" and 275 lbs, Jawai is a banger in the middle… his offensive game is raw, but he has a surprisingly soft touch around the basket… good hands an a solid passer… needs to work on when to put the ball on the floor… better conditioning would reveal a big upside…
What they're thinking: The Pistons have an aging front line that includes Rasheed Wallace and Antonio McDyess, who are both 33. Jason Maxiell looks like a player, but Amir Johnson didn't get a ton of run this season. Jawai is a big body with an interesting upside. The Pistons don't have any glaring holes, so they can go a number of ways with this pick depending on what changes they plan to make this offseason.
Offseason blueprint: The rumors are flying about how Joe Dumars plans to tweak the Pistons' roster. They should be building around Chauncey Billups, Rip Hamilton and Tayshaun Prince, who are all amongst the best at their positions and are relatively inexpensive. Some say Rasheed Wallace has become a distraction, so the team may move him and start fresh down low. If not for the Celtics' resurgence, the Pistons would have made the Finals again this season, so wholesale changes aren't really necessary.
30. Boston Celtics (66-16)
Team needs: SG, C, PG
2008-2009 payroll: $74.8 M
THEY SHOULD PICK: Bill Walker, GF, Kansas State
Coach Z's scouting report: Before the latest tweak to his knee, he was athletic as ever… love his intensity on the glass… inconsistent jumper… overlooked because he played with Beasley… can be a monster on the glass… he should find his way into a starting lineup due to his Jason Maxiell-type intensity… refinement of his shot will make him more consistent… plays with a chip on his shoulder…
What they're thinking: The Celtics can go a number of directions with this pick. One option would be to draft a big foreigner (like Serge Ibaka or Ante Tomic) and let him develop overseas before bringing him to the States. Another option would be to try to find a wing (or a PG) that can help now. If Walker's MRI comes back clean, he could be a big surprise in this draft. He has tremendous athleticism and upside, and should develop nicely watching Ray Allen and Paul Pierce play ahead of him. Another option would be Coach Z favorites Jamont Gordon or Gary Forbes. Ray Allen will likely be the first of the so-called "Big Three" to break down, and the C's don't have much else at SG right now. Gordon can play point guard as well, and Boston should be thinking about another backup for Rajon Rondo. Gabe Pruitt is the wildcard. He wasn't very good in limited minutes.
Offseason blueprint: It will be interesting to see if James Posey opts out of the final year of his contract. He was very important to the Celtics' run and they need to re-sign him, but he's 31, so the C's should only sign him for two more years. Boston has a decision to make on Tony Allen too. He was terrific in spurts two seasons ago, but is still working his way back from a knee injury. P.J. Brown was instrumental in the Celtics' win over the Cavs, but he's looking slower and slower, so guys like Leon Powe and Glen Davis should be able to take his minutes. If Posey comes back, the Celtics just need to shore up the backup point guard spot and try to find an eventual replacement for Ray Ray.
TEAMS WITHOUT A FIRST ROUND PICK
Dallas Mavericks (51-31)
Team needs: SG, C
2008-2009 payroll: $79.8 M
How they lost the pick: They sent the pick to New Jersey along with Devin Harris and another first round pick to acquire Jason Kidd. The verdict is still out on this trade, but it sure doesn't look good.
Offseason blueprint: Dallas panicked a bit and pulled the trigger on a trade that is going to set them back for years to come. They were hoping that Kidd would arrive in Dallas and lead the Mavs to the Promised Land, but the first chapter of this story didn't end well. Now Dirk Nowitzki is over 30 and it looks like the Mavs best days are behind them. The nice thing about having Harris on the roster was that there was always a plan B if the team wasn't able to break through. Now that he's gone (and Josh Howard is on the trading block after a no-show in the playoffs), what direction are the Mavs headed? It looks like Mark Cuban is going to go all out and try to put a team together that can win a title in the next couple of seasons. (Think that the Heat would go for a Josh Howard-for-Shawn Marion swap?) The bad news is that they won't have any cap flexibility for a while.
L.A. Lakers (57-25)
Team needs: SF
2008-2009 payroll: $75.3 M
How they lost the pick: Along with Kwame Brown, Javaris Crittenton and Marc Gasol, the pick was part of the deal that brought Pau Gasol to Los Angeles. It was one of the most lopsided trades in recent memory.
Offseason blueprint: The tough loss in the Finals was a little bit of a wakeup call for the franchise. The nice thing is that they should get Andrew Bynum back next season, but that's going to cause some problems as it's seems clear that Lamar Odom doesn't fit into the picture alongside Gasol and Bynum. The team needs a sharpshooting small forward that can play defense. Trevor Ariza is a good defender, but he needs to work on his range in order to become the future at small forward. Josh Childress is a restricted free agent and the Hawks might be interested in Odom, though another player or two would need to be in the deal to make it work. Then there's always the rumor of Artest joining the Lakers, though it's unlikely that the Kings would want to take on Odom (or help out their rival), so a third team would have to get involved. One rumor that might be a worthwhile trade for both teams would be a Richard Jefferson-for-Odom swap. The Lakers would get their small forward to complement the rest of the roster and the Nets would get a good player to keep them afloat and cap relief next summer when a bunch of big names might hit the market.
Atlanta Hawks (37-45)
Team needs: PG, C
2008-2009 payroll: $51.7 M
How they lost the pick: The pick was one of two first round picks (and Boris Diaw) that were sent to Phoenix for Joe Johnson. It was a high price to pay for Johnson, but he hasn't disappointed in Atlanta.
Offseason blueprint: The Hawks have to lock up Josh Smith as soon as possible. He is a rising star and his asking price is only going to go up. Josh Childress is another nice player who is a restricted free agent, but the Hawks have a logjam at the forward positions, so someone (be it Childress or Marvin Williams) should be moved for a good young point guard. Atlanta should be calling Toronto daily about the availability of T.J. Ford, who would be a great complement to all the Hawks' finishers on the break. Mike Bibby isn't what he used to be and when his contract comes off the books next summer, it will free up some payroll. The Hawks should be looking for a point guard, a big body up front and maybe a shooting guard to add some punch from the perimeter. With the right moves, the Hawks could make a push in the next couple of seasons.