Bracket update and Sweet Sixteen preview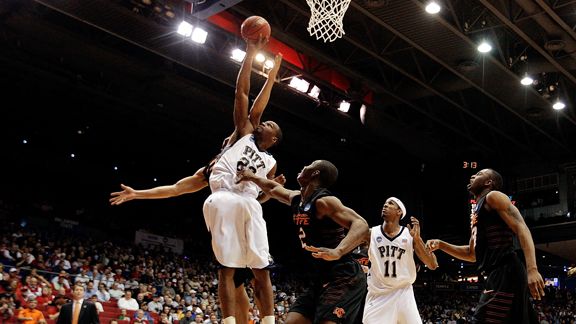 Those of you that followed my picks, or at least leveraged my analysis to some extent, should find that you're still alive in your pool. Unless, of course, your pool is so big that even if all of your picks come in, there is someone who's already ahead of you that has predicted the same outcome.
I'm in three moderately sized pools – 26, 31 and 105 brackets – and I'm still very much alive in each one. Essentially, I need to get three of my Final Four picks – Pitt, UConn, Louisville and Gonzaga – to come in, and Pitt needs to win it all. Granted, with the way the Panthers are playing (and the Bulldogs, to a certain extent), I don't feel great about my chances, but I'm still alive and that's all you can ask for. If I had it to do all over again, I think I'd take UConn to win it all. They have been by far the most impressive of the top seeds. Still, if I'm right and it's a Pitt/UConn final, you have to like the Panthers' chances after already beating the Huskies twice this year.
If you've been following our coverage, you'll probably know that the 2+ point Sagarin favorites got off to a rough start in the first round (21-8, or 72%). Normally, this system hits at about an 85% rate, so it makes sense that it bounced back in a big way (12-0) in the second round, making it 33-8 (80%) through two rounds. (Keep in mind, even though the Sagarin ratings change throughout the tourney, I'm sticking with the pre-tourney ratings when calculating overall records because that's all we have to go by when we're filling out our brackets.)
The Kansas/West Virginia game was a tough call, but I sure didn't think that the Mountaineers would lose to Dayton. Since I entered three pools, I picked Kansas in one pool to go to the Elite Eight instead of West Virginia, and needless to say, my margin for error is a bit wider in that bracket.
But enough about my brackets – let's move on to the preview of the Sweet Sixteen. I'll give my thoughts on each of the eight games, provide some statistics and maybe recommend a wager or two for the gamblers out there. Any Sagarin stats I refer to from here on out are the updated numbers, because I'm going to try to predict the future instead of measuring the past.
THURSDAY'S GAMES
#5-seed Purdue vs. #1-seed UConn (in Glendale, AZ)
Tip-Off: 7:07 PM ET
Sagarin Ratings: UConn (93.81), Purdue (87.70)
Line: UConn -6.5
The Boilermakers got off to a great start against Washington and held off a late run with some solid defense. Meanwhile, UConn has coasted, outscoring their two opponents 195-113. The Huskies will be challenged in this game because Purdue isn't going to give up. They're going to keep coming at you, so if you don't stay focused for 40 minutes, you may be in trouble. But the bottom line is that UConn has more talent, and they should be a six- or seven-point favorite. Purdue's best bet is to run an effective pick-and-roll, which is a good way to pull Hasheem Thabeet away from the basket and potentially get him into foul trouble. Thabeet will probably be covering JaJuan Johnson, so if he screens for E'Twaun Moore 20 or 30 times over the course of the game, the Bollermakers might be in business. The Sagarin difference and the line are about the same, so I wouldn't recommend putting any hard-earned dollars on this game. UConn should be able to pull this one out, but unless the Huskies run them off the court, Purdue should have enough grit to keep it close.