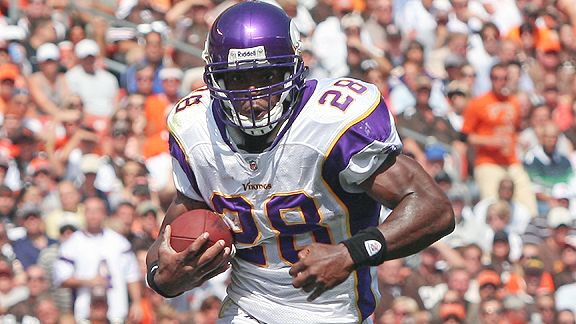 Here are quick-hit previews for all the Week 3 games in the NFL.
Redskins (1-1) at Lions (0-2), 1:00PM ET
Don't be shocked if the Lions end their massive losing streak today at home against a very average Redskins team. Thanks to Jim Zorn's conservative play calling, Washington's offense has become unimaginable and bland. If Matthew Stafford limits the turnovers, the Lions have a shot.
Packers (1-1) at Rams (0-2), 1:00PM ET
St. Louis played well defensively last week and Green Bay has major issues along its offensive line – could this be an upset in the making? Probably not. The Rams' offense has looked atrocious in the first two weeks of the season and although Dom Capers' defense looked horrendous last week, the Packers should manage to beat a bad St. Louis team. (Although this game might be tighter than most expect.)
49ers (2-0) at Vikings (2-0), 1:00PM ET
This is the only matchup in Week 3 that features two 2-0 teams. This game will be the Vikings' first real challenge after earning victories against the lowly Browns and Lions in the first two weeks. The key for the 49ers will be stopping Adrian Peterson, because Brett Favre won't find much success through the air against San Fran's solid secondary. Can Shaun Hill make enough plays in the passing game to lead his team to victory once the Williams Wall takes away Frank Gore?
Falcons (2-0) at Patriots (1-1), 1:00PM ET
This game will be a great test for both teams to see where they are at this point in the season. A win for the Falcons and they'll be viewed as one of the elite teams in the NFC, while a loss for the Patriots means that it could be panic time for Tom Brady and Bill Belichick. Conversely, if Atlanta loses then everyone will question whether or not the Falcons can beat the top teams in the league, while a win for New England will quiet some of the concerns surrounding the Pats.
Titans (0-2) at Jets (2-0), 1:00PM ET
A loss for Tennessee would be shocking considering the Titans started 10-0 last year. Rex Ryan and Mark Sanchez have the Jets playing with toughness, emotion and swagger. Will the Titans really fall to 0-3 to star the year? Or will they bring Ryan and Sanchez back down to earth after their hot start has everyone buzzing about the J.E.T.S?
Chiefs (0-2) at Eagles (1-1), 1:00PM ET
Kansas City should be just what the doctor ordered for a Philadelphia team that was absolutely shredded by Drew Brees and the Saints last week. Kevin Kolb will get his second consecutive start filling in for the injured Donovan McNabb, although the Eagles did vow to get Michael Vick on the field in some capacity so keep an eye on that.
Giants (2-0) at Buccaneers (0-2), 1:00PM ET
The Giants have major concerns on the defensive side of the ball due to injuries to Justin Tuck, Kenny Phillips, Aaron Ross and Chris Canty. The Bucs haven't played well defensively so far this year, but they have moved the ball surprisingly well thanks to Byron Leftwich and Cadillac Williams. Will the G-Men's injury issues hurt them today in Tampa?
Browns (0-2) at Ravens (2-0), 1:00PM ET
Cleveland is having tons of problems moving the ball offensively, mainly because quarterback Brady Quinn doesn't look comfortable throwing the ball vertically. Unfortunately for Quinn and the Browns, things don't get any easier this week when they pay a trip to Baltimore to visit the undefeated Ravens. While Baltimore has issues in its secondary, the Ravens' offense has had no problem putting points on the board in the first two weeks. The Browns haven't played that bad defensively, but Joe Flacco and company shouldn't have any problem securing a win today.
Jaguars (0-2) at Texans (1-1), 1:00PM ET
So who are the real Texans? The ones that were crushed at home in Week 1 by the Jets or the ones that earned a hard-fought win in Tennessee in Week 2? Houston has a perfect chance to show the rest of the league that it can beat up on a bad opponent, because that's exactly what Jacksonville is. The Jags still have the capability to move the ball offensively, but Jack Del Rio's defense has major issues that Matt Schaub, Steve Slaton (who is off to a slow start) and Andre Johnson can exploit.
Bears (1-1) at Seahawks (1-1), 4:05PM ET
It'll be the Seneca Wallace show today in Seattle as he fills in for the injured Matt Hasselbeck (rib). The Hawks have looked like a different team under Wallace then Hasselbeck, so the Bears have a perfect opportunity to earn their second victory of the year. As long as Jay Cutler resembles the quarterback that helped Chicago beat the defending Super Bowl champions last week and not the one that was filthy awful in Green Bay in Week 1, the Bears should be fine.
Saints (2-0) at Bills (1-1), 4:05PM ET
If it weren't for Leodis McKelvin returning a kickoff instead of taking a knee late in the fourth quarter against the Patriots in Week 1, Buffalo would be 2-0 right now. The Bills will get a huge test today as Drew "MVP" Brees and the Saints' explosive offense comes to Ralph Wilson Stadium. This is the second week where New Orleans will have to travel to the east coast, although nothing (not even the travel conditions) looks like it can slow the Saints' offense. New Orleans' defense is still a question mark, although if the Saints continue to score 40-plus points a game it won't matter how bad Sean Payton's squad plays defensively.
Steelers (1-1) at Bengals (1-1), 4:15PM ET
Pittsburgh needs to put its ugly loss to Chicago behind it and pick up a big divisional win in Cincinnati. The Bengals looked great offensively last week in Green Bay and will get the chance to show that they're going to be competitive this year. Can Carson Palmer move the ball against a stingy Steelers defense?
Broncos (2-0) at Raiders (1-1), 4:15PM ET
It's amazing to think by the end of the day Josh McDaniels' Broncos could be 3-0. It's amazing because this was a team in complete turmoil this offseason and is led by a very limited Kyle Orton. Denver's defense has been fantastic so far and will face an inconsistent JaMarcus Russell today. Can the Bronco defense continue to play well or is this the week things start to come unglued?
Dolphins (0-2) at Chargers (1-1), 4:15PM ET
This is a matchup of two playoff teams from a year ago that have issues at the start of this season. Miami can run the ball, but their loss to the Colts last Monday night proved that the Dolphins can't win when they have to throw late. San Diego certainly has all the talent to succeed, but for some reason can't seem to put it all together. Which team can overcome their weaknesses to earn a much-needed win?
Colts (2-0) at Cardinals (1-1), 8:20PM ET
This will be an interesting test for Peyton Manning and the Colts, because the Cardinals have enough offensive firepower to hang with Indy's up-tempo offense. Can the Colts continue to win by leaving their defense on the field all game? Will Indy force Kurt Warner to throw the ball vertically instead of relying on short, underneath passes like he did last week? This will be an intriguing game.
Panthers (0-2) at Cowboys (1-1), Monday, 8:30PM ET
A loss would be devastating to the Panthers, who are already two games behind New Orleans and Atlanta in a tough NFC South. A loss for Dallas and the hot seat that Wade Phillips is currently sitting on will be on fire. Likewise for quarterback Tony Romo, who is coming off a brutal performance against the Giants in Week 2. Something has to give for two teams that desperately need a win.
For Week 3 point spreads and over/under totals, click here. For Week 3 picks and predictions, click here.