Browns' rookie throws punch, ice in locker room fight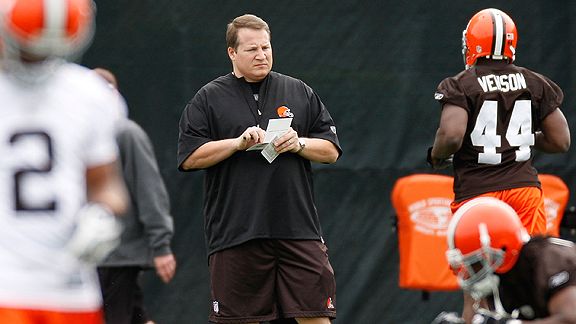 Things are getting a little testy between players of the 0-2 Browns.
According to a report by the Cleveland Plain Dealer, rookie defensive back Coye Francies threw a bucket of ice at several teammates after he was a victim of a prank, then threw a punch at veteran safety Abram Elam.
Francies burst into the locker dripping wet and carrying a Gatorade bucket full of ice and water. Apparently, his teammates had dumped a bucket on him and he was looking for revenge.

The incident happened during the media's open locker room period. Francies threw half the bucket toward cornerback Brandon McDonald, some at safety Mike Adams and then headed toward Elam. When he got to Elam, he threw a punch, but Elam grabbed his arm. Before it got out of hand, Shaun Rogers, Eric Barton and D'Qwell Jackson led him outside to settle him down.

"We were just playing around, having some fun and games, know what I'm saying?," said Francies at his locker after cooling off. "That's pretty much it. It was all fun and games."

So that's your story and you're sticking to it?

"Absolutely," he said, with a smile on his face.
These kinds of situations have a weird way of bonding teammates. Despite their record, Cleveland hasn't played poorly on defense and maybe this incident will lighten up the locker room or at least help clear the air. Either way, it looks like a dead issue and something that probably won't spiral out of control.
I would love to hear how much head coach Eric Mangini is going to fine Francies for after wasting all of that ice though. Mangini was the same man that fined a Browns player $1,701 (which is the maximum fine allowed by the league's collective bargaining agreement) for not paying for a $3 bottle of water from a hotel mini-bar upon checkout.