Chris Henry, a sleeper no longer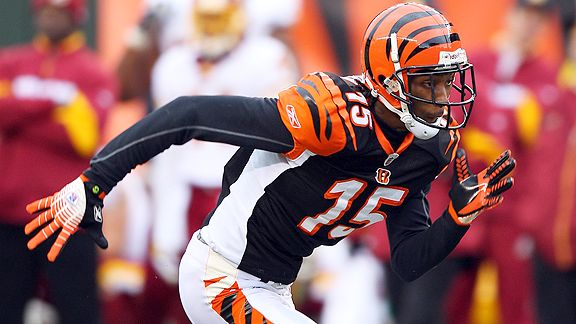 Over the course of his tumultuous four-year career, Chris Henry has caught a TD every 5.6 passes. That's a better ratio than Randy Moss (6.2), Terrell Owens (6.8) and Jerry Rice (7.3), in his 49er days. There has never been any doubt that the lanky 6'4″ Henry had all the tools to be a star, but he just couldn't stay out of trouble.
According to ESPN, it was the NFL's disciplinary policy that helped Henry see the light. He should know — he has been suspended for 14 games over the last three seasons.
"Yeah, it helped me," Henry said, according to USA Today. "It helped me focus up, and it made me realize that if I continually wanted to play, I had to do right and be a professional."

Since the Bengals drafted him in 2005 out of West Virginia, he's faced charges of marijuana possession, carrying a concealed weapon, drunken driving, providing alcohol to minors and assault.
Through four preseason games, Henry has 14 catches for 224 yards and four TD. Even though he's playing limited snaps, if he keeps that pace up, he's on his way to a 56-catch, 896-yard, 16-TD season. Obviously, it's tough to expect him to catch that many touchdowns, but double digits are certainly attainable given his TD-to-catch ratio. The receptions and yards are doable, and a 56-896-10 season would result in Top 20 fantasy numbers.
There are a few things standing in Henry's way: 1) Chad Ochocinco, who is hell bent on having a bounce-back year, 2) Laveranues Coles, who still has enough ability to earn snaps by catching all the underneath stuff, and 3) Henry's own demons, who may resurface at any time.
Still, with the departure of T.J. Houshmandzadeh and the (possible) decline of Ochocinco, the Bengals' WR pecking order is as fluid now as it's ever been, and if the immensely talented Henry has truly turned over a new leaf, he has the chance to break out in a big way.
From a fantasy perspective, it's hard not to like this guy in the late-middle rounds. In my drafts, it seems like he's the best WR on the board as early as the 8th or 9th in some cases, but owners can usually wait a bit longer to pull the trigger.
But don't wait too long.