Heat trying to land Boozer, Odom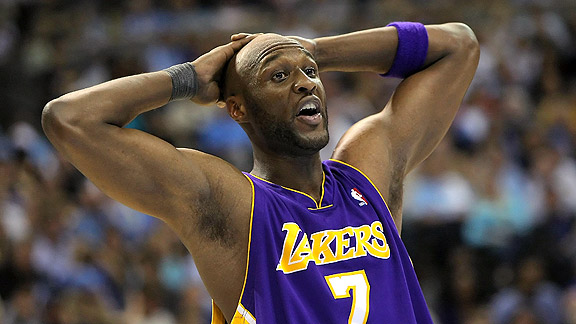 According to Adrian Wojnarowski of Yahoo! Sports…
Now, the Heat are working furiously to deliver Lamar Odom and Carlos Boozer to the shores of Biscayne Bay. The Heat are trying to sell Odom on a five-year, $34 million contract at the mid-level exception, and a league executive with knowledge of the talks says Miami has also hatched a three-way proposal with the Utah Jazz and Memphis Grizzlies to secure Boozer.

The essentials of a possible deal would include Miami sending forward Udonis Haslem and Dorell Wright to Utah. Because Memphis is under the cap, Utah could move Wright's $2.8 million salary to the Grizzlies and save itself approximately $5.6 million with salary and luxury-tax payments. Memphis would probably get cash and picks for its trouble. The Heat would have to send one more small contract to make the math on the salary exchange work.
Odom can play some small forward, so this isn't an outrageous plan by Riley and the Heat, though I'm not sure where it would leave Michael Beasley. Wojnarowski says that the Lakers have offered Odom $36 million over four years (which works out to about $8 million per season, after state taxes), so I'm not sure why he'd take the Heat's deal, unless he is looking to sign the biggest contract overall. There is no state tax in Florida, so Miami's $34 million deal is slightly larger than the Lakers' deal, after state taxes.
The Boozer acquisition seems more likely, and although I do like Haslem, I'm not sure that he's enough to convince Utah to pull the trigger. Portland is also working on a deal for Boozer, since all signs point to the Jazz matching the Blazers' offer sheet to Paul Millsap whether or not Boozer is on the roster. The Blazers are also trying to get the Pistons involved so that they can try to pry Tayshaun Prince away from Detroit, though Joe Dumars has wisely stayed out of such talks thus far. It appears that he doesn't see Boozer as a $14 million per season player and that's what Boozer's camp is asking for. With his injury history, they need to set their sights a little lower.