Jerry Rice: 'Signing Favre could backfire on Vikings.'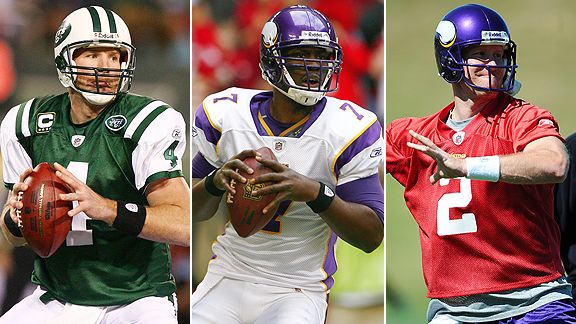 In a recent interview with the Minneapolis Star-Tribune, future Hall of Fame receiver Jerry Rice questioned the Vikings' potential signing of Brett Favre, suggesting that the move could backfire on the team by season's end.
What are your thoughts on Favre's likely return?

Rice: "You have two quarterbacks [Tarvaris Jackson and Sage Rosenfels] who don't know exactly what is going to happen. All of a sudden these two guys thought they were going to be competing. To be honest with you, I thought Tarvaris would be the starting guy this year. I've watched him off and on. The most important thing for him is the consistency. He shows that at times 'OK, I can do this.' I think he was moving in the right direction, making progress. Now you have this saga, and everybody is sitting back wondering what is going to happen."

What do you think the expectations should be with Favre? He's going to be 40 and is coming off arm surgery.

Rice: "In New York, you hear about what happened, and it was not very good. I think Brett showed some great flashes last year. Did some good things. But then towards the end he didn't play as well. If they feel like bringing him in is going to get them to the next level, I think they should. But to be honest with you, I think the two guys with the team right now should be the two guys that they should be focusing on."

What happens if he does struggle or is not healthy with a team that is built to win now?

Rice: "Then everything backfires. You've got a major problem. Also you have to look at the scenario that happened in New York. If he pretty much distances himself completely from the players, then all of a sudden you're going to divide the players because a lot of the players are going to say, 'Hey, Tarvaris Jackson should be in here or Sage.' You don't want this to divide the team. So this could really backfire."
I couldn't agree more with what Rice said on everything. If the Vikings sign Favre, he's going to start, which probably means Tarvaris Jackson is all but done in Minnesota and the trade acquisition of Sage Rosenfels was somewhat of a waste (although he would be a serviceable backup if/when Favre got hurt).
If Favre plays great and gets the Vikings to the playoffs, then everyone will applaud the move. But what's the more likely scenario, Favre leading Minnesota on a magical season, or Favre tiring out again and taking the Vikes down with him? As with the Jets, he might play at a high level again over the first part of the season, but there's a very real possibility that his 40-year old arm will unravel again and the entire team will crash and burn in the second half. And as Rice suggested, then Brad Childress and company will have a team that will largely question why Favre was signed in the first place.