NBA draft and free agency rumors: Jordan Hill slipping, Ron Artest to Greece and more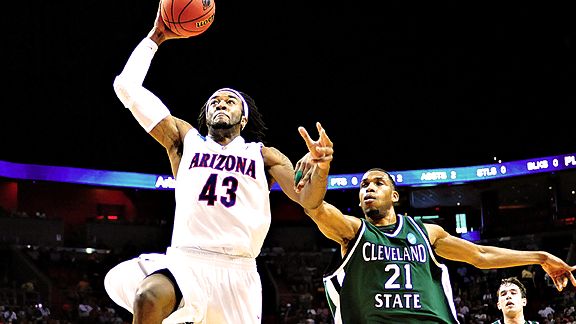 DraftExpress is over at the Reebok EuroCamp, and reported some rumors that are making the rounds.
Jordan Hill potentially slipping into the bottom of the top-10 or even possibly slightly beyond. The talk is that the Washington Wizards' 5th pick could very well end up being claimed by Stephen Curry (whether for them or another team trading up), and that since Minnesota, Golden State, New York and maybe even Toronto appear to be looking at other positional needs, Hill could be on the short end of the stick come draft night.
Hill has a lot of upside, picked up the game late, and still averaged 18.3 points and 11.0 rebounds per game for a NCAA tournament-caliber team in a power conference. He has long arms and a great reach, and he can jump out of the gym. The only concern from his combine numbers is a lack of lateral quickness. He'd be a good fit for the Bucks at #10 and even the Raptors at #9, though Toronto might be interested in finding a banger so that they can move Chris Bosh to power forward full time.

Ron Artest as a willing and interested free agent target for both Greek powerhouses this summer, Olympiacos and Panathinaikos, granted he does not find a superior NBA offer on the free agent market.
Hmm, Artest is thinking about going the Josh Childress route. I think he'll eventually sign an NBA deal, probably with the Rockets in the $7-$8 million per season range. I don't know that any team is going to offer him more than that in this economic environment. He has been a pretty good citizen of late, but he's still Ron Artest.

DeJuan Blair, whose knees and arthritic condition are a major concern to certain teams
Ugh. I was advocating that the Bucks take Blair if Jordan Hill is gone at #10, but that was only when I was worried about his weight. Now we learn that he has bad knees, though the information is sketchy at best. If this is accurate, I think I'd steer clear of him in the late lottery.

Plenty of chatter about the Ricky Rubio situation, with the most interesting commentary coming from the many members of the Spanish basketball industry, which are out here in full force. The news this morning about a lawsuit being planned by Rubio's camp is apparently very true, and there was plenty of spirited discussion regarding whether his exorbitant buyout relative to his proportional contract will hold up in a Spanish court.

Some cited the fact that similar cases in soccer (for example in England) had sided in favor of the players in the past, while others mentioned that Rubio's willing acceptance of a large pay raise a few months back had nullified his ability to dispute the validity of the deal.
SI.com has the scoop on Rubio's buyout…
A further complicating issue is the buyout demanded by Rubio's Spanish club DKV Joventut Badalona. The club will set Rubio free from his contract if, before June 30, he pays $6.6 million (4.75 million euros being the exact figure). If he pays the buyout after June 30, the price he owes the club rises to $8 million (5.75 million euros).

It's hard to imagine that the team will be so shortsighted as to refuse to negotiate a much lower buyout. The same club last season was paying Rubio — its biggest star and best player around whom its marketing was built — a salary of 70,000 euros, which by today's exchange rate is worth $97,706. For this season only, the club preemptively raised Rubio's salary to 210,000 euros, or $293,118, in an apparent attempt to show it was treating him fairly.

But there is no fairness by today's standard in paying a player less than $100,000 and demanding a buyout of $8 million.
If Rubio's camp is unable to reduce the amount of the buyout, it's conceivable that it will be more than his entire salary for his rookie year. Sure, he should be able to sign endorsement deals that will make it a profitable first year in the NBA, but the buyout number is ridiculous given how his old team was paying him for the last few seasons.
Posted in: NBA, NBA Draft, News, Rumors & Gossip
Tags: 2009 NBA Draft, 2009 NBA free agency, 2009 NBA free agents, DeJuan Blair, DeJuan Blair draft, DeJuan Blair knees, Jordan Hill, Jordan Hill draft, NBA Draft, Ricky Rubio, Ricky Rubio buyout, Ricky Rubio draft, Ron Artest, Ron Artest free agent, Ron Artest Greece, Ron Artest to Greece