Yahoo Sports probe finds that UConn violated recruiting rules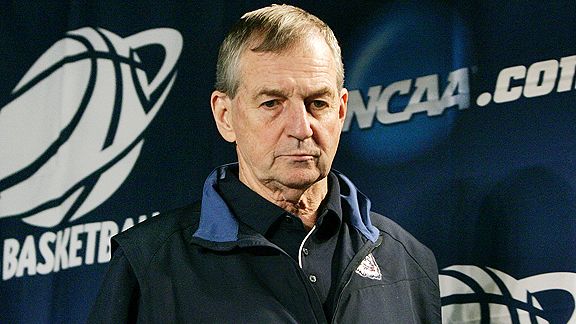 Adrian Wojnarowski and Dan Wetzel co-authored a revealing look inside the recruitment of top high school prospect, Nate Miles. The article is meaty and detailed, but here's the gist…
The University of Connecticut violated NCAA rules in the recruitment of former guard Nate Miles, a six-month investigation by Yahoo! Sports has found.

Miles was provided with lodging, transportation, restaurant meals and representation by Josh Nochimson – a professional sports agent and former UConn student manager – between 2006 and 2008, according to multiple sources. As a representative of UConn's athletic interests, Nochimson was prohibited by NCAA rules from having contact with Miles and from providing him with anything of value.

Agents aren't just recruiting players from college programs, they are recruiting players for them, according to an NCAA official.

The UConn basketball staff was in constant contact with Nochimson during a nearly two-year period up to and after Miles' recruitment. Five different UConn coaches traded at least 1,565 phone and text communications with Nochimson, including 16 from head coach Jim Calhoun. Yahoo! Sports obtained the records through the Freedom of Information Act. The documents were requested in October and received two weeks ago.

The NCAA allows a single phone call per month to a prospect or his family in a player's junior year of high school. That limit was exceeded over several months from late 2006 into 2007. In December of 2006, for instance, Tom Moore, then a UConn assistant coach, made 27 calls to Miles' guardian and a person Miles referred to as an uncle. Moore made three calls to Miles.

From that first meeting until Miles was expelled from the university in October 2008 for violating a restraining order brought by a female student, Nochimson played an integral role in the player's life.

Nochimson filed paperwork with the NBA Players Association to decertify himself as an agent in June 2008 after UConn All-American and Detroit Pistons star Richard Hamilton fired him as his business manager and accused him of stealing more than $1 million.

As an alumnus and former part of the men's basketball program, Nochimson is defined by the NCAA as a representative of UConn's "athletic interests." As such, NCAA rules say he could "not be involved in the recruiting process" and could "not make any contact, including telephone calls and letters, to a prospect or the prospect's family, on or off campus."

The fact that Moore knew Nochimson and Miles were talking was a violation.
When I first heard this news, two thoughts jumped to mind:
1) Why is Yahoo Sports releasing this story on the eve of the Sweet Sixteen?
2) Who the hell is Nate Miles?
The answer to the first question lies in the article — Yahoo Sports received the phone and text information (via the Freedom of Information Act) two weeks ago. It is unsurprising that it would take a couple of weeks to process it and put the report together. This information proves that UConn violated contact rules when recruiting Miles.
The article goes into great depth about the Nate Miles timeline. He was a talented recruit that was supposed to be the next great wing (following Ray Allen, Rip Hamilton and Caron Butler) to come out of the UConn program. But he couldn't stay out of trouble and was finally expelled.
What has me scratching my head is that there probably is no story unless former UConn assistant coach (and current Quinnipiac head coach) Tom Moore speaks (on or off the record) to Yahoo. How would the website know to request those records via the Freedom of Information Act unless they someone told them where to smell for smoke? Or did someone else suggest they ask Moore about Miles' recruitment? Moore seems unusually willing to spill the beans.
And why UConn would continue its relationship with Nochimson after one of their family, Rip Hamilton, accused him of stealing more than $1 million?
According to ESPN's Jay Bilas, the one-call-per-month rule for high school seniors is causing all of these unregulated people (family, friends, "uncles," summer coaches, etc.) to get involved in the recruiting process. A player can initiate contact with a coach as much as he wants, but a coach can only call a player once per month.
I'd like to see this — if a coach is interested in recruiting a player, they make a call or set up a visit. If the player wants to continue the relationship, they call the NCAA and put the school on their "approved recruiting list." Then, the coaching staff can call the player as much as they want (or up to some number of contacts per month that is within reason). If the player decides that the coach/school is bothering him or if he wants to end the relationship, the player/family calls the NCAA and takes them off the list. The NCAA calls the school and informs them that they are no longer able to recruit the player. This way, the player controls the amount of contact he's getting during the recruiting process (which is the reason the one-call-per-month rule is in effect for high school juniors). If the phone is ringing off the hook, he and his family can pare down the list to his top schools.
For sophomores and freshman, the only contact allowed would be via snail mail — one letter per month.
I think this sort of system would remove a lot of the gray area that currently exists in the recruiting process. Right now, there are way too many extraneous people getting involved in a player's recruitment. Having advisers is fine, but when those advisers are pushing a player one way or another for their own personal gain (such as what Nochimson did with Miles), then that's when the trouble starts. Unlimited contact (or contact within reason) for "approved" schools is the way to go.