Westbrook pushing Rose for ROY?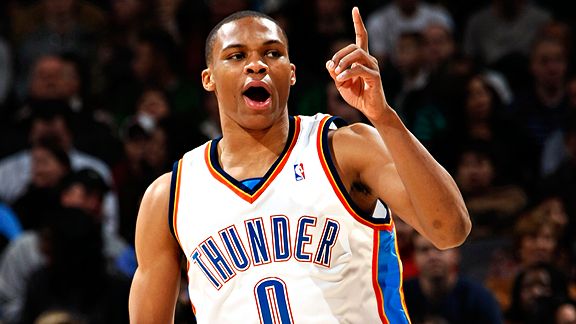 Don't look now, but Russell Westbrook is on fire. He's still not shooting the ball particularly well (40% on the season), but check out his February averages:
20.6 ppg, 6.1 rpg, 5.9 apg and 1.2 spg
He even had his first triple-double the other night when he posted 17 points, 10 rebounds and 10 assists against Jason Kidd and the Dallas Mavericks.
Here are Rose's February numbers:
15.8 ppg, 4.0 rpg, 6.8 apg and 0.9 spg
Rose is shooting 47% on the season, so he's a much more efficient scorer.
Still, Rose jumped out to a quick start this season in the ROY race, so it's interesting to see someone close the gap. I suspect Thunder fans are feeling pretty good about the possibility of having two straight ROY winners. That's a good way to build a franchise.
Westbrook needs to work on his jumper, but other than that, he looks like the real deal.
Follow the Scores Report editors on Twitter @TheScoresReport. You can also follow TSR editor Gerardo Orlando @clevelandteams and @bullzeyedotcom, and you can follow TSR editor Anthony Stalter @AnthonyStalter.
Picture of the Day
Enjoy a daily photo from Bullz-Eye.com of one of their beautiful models.
Improve your game today!
You've got to brush up on your game to get the girl! Find your hookups with this online dating guide.
Sexy Girls and Cars
Check out this slideshow of hot babes and cool cars.