Is Kobe Bryant actually Pau Gasol's sidekick?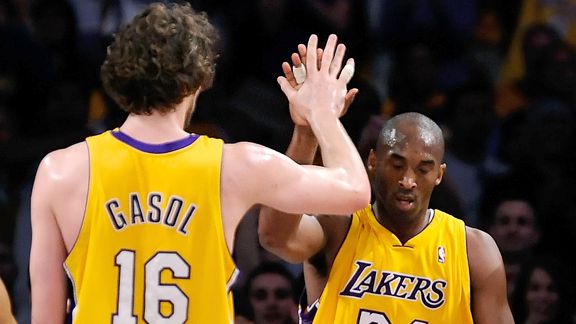 Think about it…Pau Gasol is averaging 18.6 points and 10.6 rebounds per game in the playoffs, and is shooting a scintillating 58.1% from the field. One of the best gauges of overall offensive efficiency is points per shot (PPS), which is simply the total points scored divided by the number of field goal attempts. Gasol's PPS is 1.54, which is outstanding.
Then you have Kobe. Sure, he's averaging 30.1 points, but he has to shoot almost 23 shots per game to get those points. (He's also averaging 5.4 assists and 5.1 rebounds.) His PPS is 1.33, which is still good, but is almost 14% less than Gasol's.
Kobe is so determined to win a title this season for one reason — he wants to dispel the notion that he can only win a championship as Shaq's sidekick. If the Lakers do manage to eliminate the Magic and Kobe does indeed get his fourth ring, he will have accomplished this feat…as Pau Gasol's sidekick.
Now before any Kobe apologists start pounding furiously at their keyboards, I don't actually believe this to be true. Kobe is the better player, but these numbers beg the question — why aren't the Lakers using Gasol more?
Against the Magic, Gasol has made 23 of his 37 field goal attempts (62%). Against the Nuggets, he shot 63% from the field. The Spaniard is on such a roll right now that the Lakers should be feeding him the ball until the Magic find a way to stop him. Anytime Andrew Bynum is in the game, Rashard Lewis has to cover Gasol, and he's no match for Pau in the post. Heck, even when Bynum goes to the bench, Gasol is scoring at will on Dwight Howard, the 2009 Defensive Player of the Year. Gasol was 9 of 11 from the field in Game 3, yet it was Kobe who took the most shots (11 of 25, 44%), even when he was clearly struggling down the stretch.
Mark my words, if Gasol keeps this production up and the Lakers go on to lose this series, it will be because Kobe took too many shots.