Jets sign Mark Sanchez to five-year, $50 million contract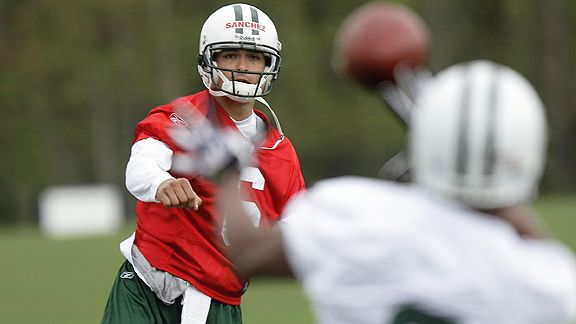 The Jets reached a deal with No. 5 overall pick Mark Sanchez on Wednesday night, signing him to a $50 million contract that includes $28 million in guarantees. In comparison, the No. 3 overall pick in last year's draft, Matt Ryan, received a six-year, $66 million deal with $34.75 million in guarantees from the Falcons.
Ironically, Sanchez, at least initially, was given more guaranteed money that No. 1 overall pick Matthew Stafford was. Stafford is only guaranteed $17 million according to this article, and not the $42 million that was initially reported. The rest of the "guaranteed" portion of Stafford's contract is actually incentive based, which is pretty fair. (Again, this is assuming that the article I linked to is accurate.)
Getting back to Sanchez, he took less short-term money than Ryan in order to hit free agency sooner. The contract also has incentives that could max his deal out at $60 million, which is still a bargain considering the position he plays and how high he was drafted. It's really a good deal for the Jets and it's huge that they were able to sign him fast and therefore not have to worry about the threat of a holdout.
Now all Sanchez has to worry about is beating out Kellen Clemens for the starting job. All indications are that Sanchez will get the opportunity to be the starter as a rookie, but word has it that Clemens has looked sharp thus far in practice and isn't ready to give into the GQ model.
I should note that I'm not in favor of the rookie salary structure in the NFL. Whether it's a good deal for the Jets or not to have signed Sanchez for that amount of money compared to what he could have made give the day and age we're in, it's still absolutely ridiculous that a player who has never taken a snap in the NFL to get that much money. Something has to be done.