NFL Draft: 5 First Round Values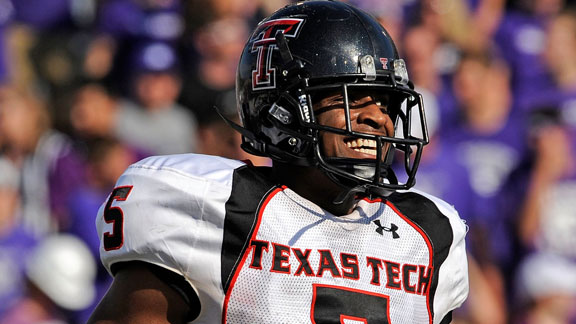 I hate the word "value" on draft day because essentially, all it means is that a team chose a player later than he was projected to go. But who projects where these players are supposed to be selected? The media – not the teams. So is it fair to talk about "value" when we don't know where these teams have these players rated? And value means absolutely nothing if the player doesn't pan out.
That said, below are the five teams who I felt got tremendous values out of their first round picks. These players should have gone much higher based on their talent and potential, yet for whatever reason (i.e. Al Davis took Darrius Heyward-Bey), they slipped. Will they pan out? We won't know for a while, but nevertheless these teams made out well on Day 1.
1. San Francisco 49ers No. 10: Michael Crabtree, WR
For the Niners to land one of the best prospects in the draft at No. 10 was impressive. Teams were scared off by Crabtree's offseason foot surgery and lack of top end speed, but the foot is healed and top end speed doesn't hold as much water in the NFL as it does in college football because everyone is fast in the pros. Go back and watch games of Crabtree at Texas Tech; he catches the ball away from his body, he uses his body well and he performs in the clutch. I know Heyward-Bey has a ton of speed and could turn out to be a great deep threat, but Crabtree is the real deal and the total package. Word is that Crabtree had a very "diva" attitude on visits to Cleveland and St. Louis, but if there's one head coach in the league who could humble the young wideout, it's Mike Singletary.
2. Jacksonville Jaguars No. 8: Eugene Monroe, OT
Monroe doesn't have the athleticism of Baylor's Jason Smith or the overall natural talent of Alabama's Andre Smith, but he's solid across the board. He does have some durability concerns and while he doesn't excel at one fact of the game, he's a steady pass blocker and a mauler in the running game. He was also considered one of the safest prospects in the draft and considering he could have went anywhere in the top 4 picks, the Jags got a steal at No. 8. He'll likely start at left tackle as a rookie and immediately upgrade a Jacksonville offensive line that was decimated by injuries last year.
Tags: 2009 NFL Draft, 49ers draft Michael Crabtree, Anthony Stalter, Arizona Cardinals, Baltimore Ravens, Brian Orakpo, Chris "Beanie" Wells, Eugene Monroe, Jacksonville Jaguars, Michael Crabtree, Michael Oher, Micheal Oher, NFL Draft, San Francisco 49ers, Washington Redskins