Papelbon goes nuts-o on photographer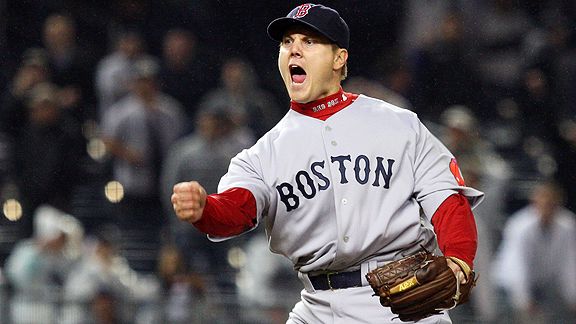 After giving up a two-run home run to Mets' backup catcher Omir Santos in New York's 3-2 victory over Boston on Saturday night, Red Sox closer Jonathan Papelbon screamed and hurled a towel at a photographer trying to capture Papelbon's utter failure.
Papelbon screamed, "Don't take my f- – -ing picture," according to Causi, before throwing his towel at him.

It should be noted: Papelbon missed Causi.

"I guess he missed with two pitches that night," Causi cracked.

Papelbon then stormed off to a corner of the dugout, hiding from the lensmen working in the first-base photographers well.

Causi contrasted Papelbon's behavior with that of Yankee closer Mariano Rivera. The fotog recalled taking a picture of Rivera last month at Fenway Park just after the ace reliever blew a save against Boston.

"He knew I was shooting him, and he didn't say a word," Causi said. "A true champion realizes you got to take the good with the bad."
Wow – Causi 1, Papelbon 0.
I don't know what's worse, giving up a two-run home run to Omir freaking Santos or having a no-name photographer make you look like a massive chump in the newspaper.