Dana White a big winner in Fedor's loss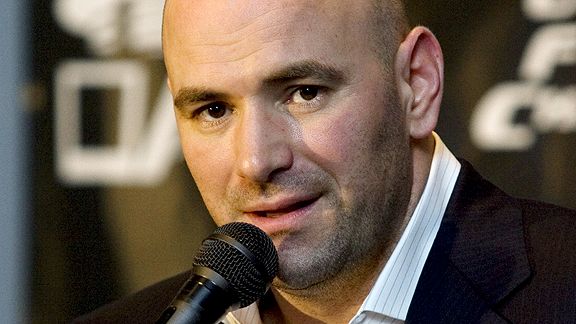 The MMA world was turned upside down Saturday night when Fabricio Werdum submitted Fedor Emelianenko at Strikeforce's Fedor vs. Werdum event.
Fedor had not lost since 2000, winning 27-striaght fights in that span. He was considered by many as the top pound-for-pound fighter in the world due to his dominance in Pride, Affliction, and now Strikeforce. Yet, there he was being submitted by Werdum, a man who had never really risen to any sort of iconic status in his career and was largely thought to be a lamb for slaughter to Fedor on Saturday.
The upset has an impact in many ways, but there isn't anyone happier about it, including Werdum, than UFC President Dana White.
White has been the face of MMA from an organizational standpoint for years now and his company, Zuffa Entertainment, has completely held the top spot in the MMA world.
White has signed all the top fighters and put on all the top fights over the last five years, yet he could never ink the highly sought-after Fedor Emelianenko.
Despite numerous attempts and record-setting contract offers, Fedor would never sign with the UFC because the organization would not co-promote his fights with his management company at M-1 Global. Fedor had the ability to hold power in contract talks because of the status he had reached in MMA through his record winning streak.
The failed contract talks spewed a lot of negativity between White and Fedor, but it also made White look bad. Despite all of his criticisms of Fedor, you knew he wanted to sign him and bring him to the UFC to see just where he stood among the heavyweights in that division.
With Fedor down to two fights on his Strikeforce contract heading into Saturday's bout, the UFC had one last attempt to sign him over the next year. Now, with the loss, that urgency on the UFC's part is completely gone.
Not only did Fedor lose, not only did he lose in just over one minute, but he lost to a man that the UFC cut because they didn't feel he was worth his contract.
Werdum has lost in the octagon to Andrei Arlovski and Junior dos Santos, but he just beat Fedor without landing a strike.
Now when contract talks come around, White can look at know that he doesn't have to sign him to prove anything. If anything, now Fedor has to prove himself against UFC heavyweights like Brock Lesnar, Shane Carwin, dos Santos, and Cain Velasquez.
Now White can proclaim he has the top fighters in the world in the heavyweight division and in the pound-for-pound category. Trust me, as smug as it might be to make a big deal out of it in the media, White won't hesitate to do so.
So while Werdum is enjoying his night of success, White is feeling like its Christmas day.