The fallout from Steve Smith's broken arm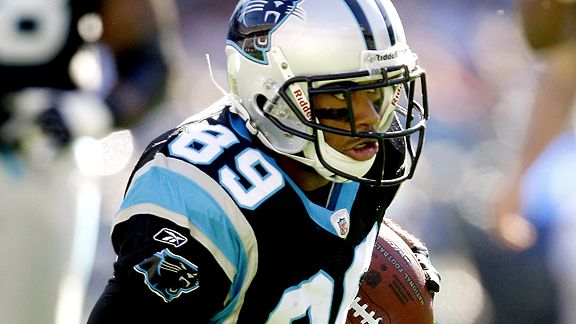 Is it just me or am I the only one that thinks it's hilarious that Steve Smith broke his arm playing in an adult flag football league over the weekend? It's not funny that he broke his arm for the second time in less than 10 months or that he'll miss all of training camp, but just the thought of having to play against him in a flag game is humorous to me.
"I OWNED YOU ON THAT PLAY!"
"I know you did – you're Steve f***ing Smith. You play in the National Football League and I play on weekend's for Mike O'Shannon's Pub & Grille."
Truth be told, how he suffered the injury isn't that important. While it certainly could have been avoided had he not been playing in a meaningless game of YMCA flag football, at least he wasn't riding a motorcycle without a helmet or driving home drunk after a night at the strip club. He could have suffered an injury weight lifting, playing basketball or even golfing at a teammate's charity event.
Either way the arm is still broken. Assuming he doesn't suffer any setbacks, he should be ready to go by the first week of the regular season.
But while the injury isn't a long-term concern (at least not right now, anyway), it does have a ripple affect for Smith and his teammates.
– One question that has come up in light of this news is whether or not Smith was in breach of his contract. Most teams have it written into players' contracts that they can't participate in dangerous activities. Whether or not playing in a flag football game qualifies as a "dangerous activity" I don't know, but chances are if the Panthers wanted to terminate his contract, they probably could. That said, based on the comments that GM Marty Hurney has made in wake of the injury, it doesn't appear that Smith will suffer any punishment from the team. While they can't be thrilled with the way he suffered the injury, I highly doubt the Panthers will risk upsetting Smith by going after his money.
– The two players that arguably will suffer the most are quarterbacks Matt Moore and Jimmy Clausen. Both players could have used the time in training camp to get familiar with the way their best weapon operates on the field. Chances are the timing between Smith and Moore (assuming he emerges as the starter) won't be there early in the season and it's not ideal for a receiver and a quarterback to try to get on the same page when games start counting for real. For as young and relatively inexperienced as Moore is, he could have used all the extra practice time he could get with Smith.
– Perhaps the only sliver lining in this situation is that youngsters like Armanti Edwards, Brandon LaFell and Dwayne Jarrett will get more reps with Smith out of the picture. Edwards, a rookie out of Appalachian State who is a converted quarterback, has already turned heads this offseason and has a chance to earn a key role in the offense if he can continue to impress. LaFell, another rookie, has received positive reviews as well. He's a big receiver who is willing to block (which is key in the Panthers' run-first attack) and who is already drawing comparisons to the recently retired Muhsin Muhammad. Jarrett has shown nothing to this point in his career that suggests he'll be a starter, but at 23 he's still incredibly young and could benefit from the extra reps.
"I OWENED YOU ON THAT PLAY!"