Cheated on your wife? Fine, just don't ruin my football team.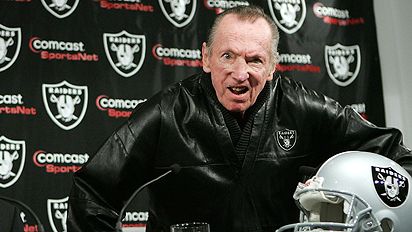 Ben Roethlisberger was accused not once, but twice of sexually assaulting two separate females, while Tiger Woods admitted to cheating on his wife with multiple women, including at least one porn star.
But neither of them hold a candle to Michael Vick in the category of most disliked athlete. The same goes for Al Davis apparently, seeing as how he was found to be the second most disliked sports personality among voters in a recent Forbes survey.
From FOX Sports:
For the second year in a row, Michael Vick topped a fan poll taken by Forbes as the most disliked national sports figure, myFOXphilly.com reported Sunday.

The Forbes survey sampled sports fans and filtered out lesser-known figures like disgraced cyclist Floyd Landis and sports agent Scott Boras, who weren't known by a lot of fans but really disliked by those who knew them.

In the end, Vick was still held in a lower opinion than Ben Roethlisberger, Tiger Woods and Oakland Raiders' owner Al Davis, with 69 percent of those polled disliking Vick.

Davis was a surprising second with 66 percent, given the amount of bad PR that Woods (53 percent) and Roethlisberger (57 percent) had in the past year.
Wait, Al Davis was second? So let me get this straight: you can commit adultery or be accused of sexual assault and still be more liked than if you ruined an NFL franchise. That's kind of disturbing. I know I'm drawing a rather incomplete conclusion based on this unscientific poll, but I wouldn't think that Al Davis would be ahead of Tiger and Big Ben on the most disliked scale.
I guess it goes to show you how much Americans love their football.