Jamal Lewis has had enough, plans to retire after the '09 season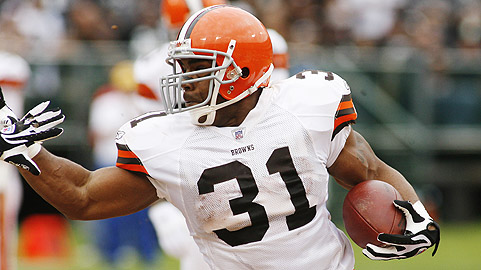 Following the Browns' ugly 30-6 loss to the Bears on Sunday, running back Jamal Lewis said that he plans to retire after the season.
While he claims it wasn't just a statement made in the heat of the moment, nobody would blame Lewis if it were. Lewis is 30, has seen his play drop quite a bit this year and he's stuck on a morbid franchise. So why stick around?
I honestly don't know how the Browns have won a game this year. Their defense is bad, but it pails in comparison to how atrocious Derek Anderson and the offense is, which turned the ball over five times on Sunday. Chicago's secondary has been shredded at times this season, yet Anderson found a way to only complete 6-of-17 pass attempts for a measly 76 yards. Oh, and he also threw two interceptions and fumbled once.
I'm sure someone will raise the question of whether or not Brady Quinn should resume the starting spot over Anderson next week. But Quinn has already shown that he's just as incapable of running the offense as Anderson is, so does it really matter? If I were a Cleveland fan (and I just threw up a little at the mere thought of that), I'd rather see Brett Ratliff given a chance to start before Quinn is given a second opportunity.
About the only reason to watch the Browns these days is to see whether or not defensive coordinator Rob Ryan will get in a fight with anyone on the sidelines. He and Jay Cutler went at it (verbally, of course) on Sunday and it was the only entertainment Cleveland provided all day.