With LJ's future in doubt, Chiefs to lean on Charles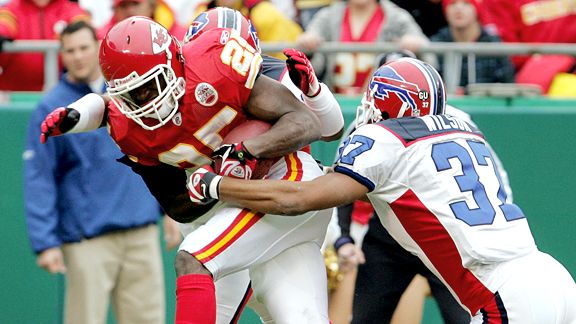 NFL.com reports that the Chiefs have ordered Larry Johnson to refrain from team activities in the wake of comments he made on his Twitter page about head coach Todd Haley. Johnson also used a homophonic slur to degrade another Twitter user that had commented on LJ's page.
On Tuesday, Haley suggested that Jamaal Charles has earned a larger role in Kansas City's offense and could take over the fulltime tailback duties while the team investigates Johnson's situation. The 22-year old back has flashed big play potential throughout his short career, but he's had problems holding onto the ball and has been an inconsistent performer.
It appears that the writing is on the wall for Johnson. While Charles isn't the answer to the Chiefs' rushing woes (it doesn't matter who takes the carries if KC's O-line doesn't start opening running lanes), he's worth taking a shot on while Johnson is busy being a malcontent off the field. The cap hit might be too great for the Chiefs to outright release LJ but given his age and production (or lack thereof), don't rule out the possibility.
Haley has stood by Johnson all season, but it appears that he has had enough. The Chiefs are off this week, but one would imagine that Haley will prep Charles for the fulltime role and depending on what happens with LJ in the next two weeks, Charles will get the opportunity to start at Jacksonville in Week 9.