Don't count on Gruden winding up at Louisville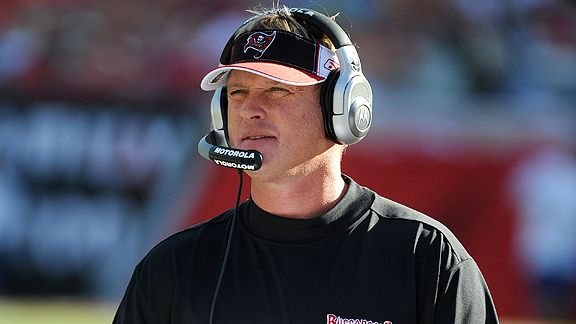 According to the National Football Post, Jon Gruden is Louisville's No. 1 choice to be the school's next head football coach if Steve Kragthorpe is fired. Gruden has been a hot name of late, as Washington Redskins owner Daniel Snyder was also rumored to be interested in the former Bucs head coach earlier this week.
A Gruden-to-Louisville marriage seems highly unlikely. While he did start at the collegiate level when he first got started in coaching (he was a graduate assistant at Tennessee, a quarterbacks coach at Southeast Missouri State and a wide receivers coach at University of Pacific), most of Gruden's experience is in the NFL. In fact, he's been in the NFL since 1990 and runs the West Coast Offense, which is predominately a pro-style system. Plus, Gruden has little to no experience recruiting, which is obviously a huge factor in building a collegiate program.
There are always head coaching vacancies in the NFL and teams will no doubt pursue Gruden in the offseason seeing as how he's won a Super Bowl. If Gruden had his choice between staying in the NFL and going back to the college ranks, why would he choose college when he's so familiar with the NFL? It just doesn't make sense.
The only reason I could see Gruden winding up at Louisville is if the money was too good to pass up. But if the rumors are true that Snyder is interested in his services, than Gruden won't have any problems making money.