Favre's wet dream is mere hours away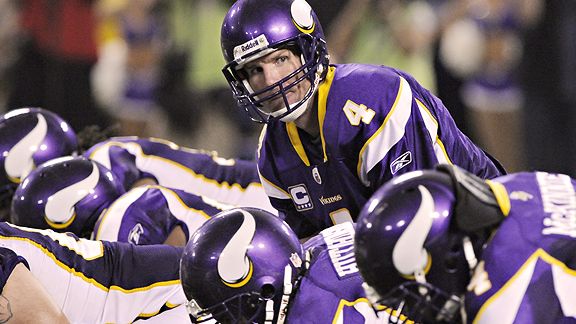 The moment Brett Favre has been waiting for since Ted Thompson crapped in his cereal over 12 months ago is vastly approaching.
The Vikings host the Packers tonight at the Metrodome and Brett will no doubt be fired up to try to stick it to Thompson, as he so amply put it when the GM traded him to the Jets last year. (The fact that Favre put Thompson in a bad position with his fickle changing of the mind is still lost on Brett, but that's a story for another time.)
The question becomes, will Brett beat Thompson's Packers tonight?
Like most weeks, the Vikings will try to establish the run with Adrian Peterson in hopes of opening things up in the passing game. The Packers have a solid secondary, so Brad Childress would be foolish to take the ball out of Peterson's hands early in the game and start forcing the action with Favre in the passing game. It would behoove Childress not to get wrapped up in the Favre-vs-Green Bay death match and just keep things simple with AP.
What would be interesting to see unfold is if the Packers dare Favre to beat them by loading the box with eight defenders to stop Peterson. As previously noted, Green Bay's secondary is solid and Dom Capers could leave his corners on an island with Bernard Berrian and Percy Harvin if he wanted to sell out to stop the run.
It would be in the Packers best interest if they get into a shootout tonight. If he gets protection (which has been a major problem for Green Bay so far), Aaron Rodgers can go toe to toe with any opposing quarterback if both teams start throwing the ball vertically. A Favre-Rodgers shootout would make for great television.
But alas, shutting down Peterson is easier said then done. He's faced eight men in the box multiple times before and has still pounded out 100-plus yards on the ground. Still, a man could hope for a Monday night shootout, right?
Comment starter: Will Favre get his revenge tonight or does Rodgers outplay his predecessor?