Colts' lose Freeney for two weeks – Niners lose Gore for three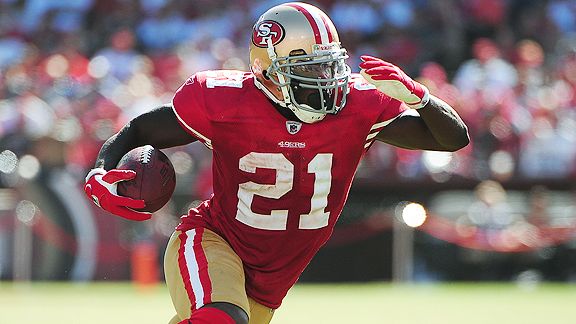 According to Adam Schefter's Twitter page, Colts defensive end Dwight Freeney is expected to miss 2-3 weeks due to a right quad injury and 49ers.com reports that Frank Gore will miss three weeks with a high right ankle and a right hind foot sprain.
I don't know if "devastating" is the right word to describe these injuries, but they're both significant.
The Colts defense has played excellent so far this year, partly because they've been able to generate pressure using only their front four. Freeney has been a one-man wrecking crew at times, especially last Sunday night in Arizona. With him out, Indy might not be able to create pressure solely from their front four and it could change the way they game plan.
If rookie Glen Coffee can pick up where he left off in preseason, then the Niners will stay afloat without Gore for a couple weeks. Coffee showed a surprising burst and quickness in preseason and will now have to become a full-time back in just his first year.
What will be interesting to watch unfold is if Coffee can't be productive. That would put pressure on Shaun Hill to make more plays in the passing game and outside of his play at Minnesota on Sunday and the game-winning drive in Arizona in Week 1 he hasn't done that.
If San Fran wants to stay atop the NFC West, it's time for Hill to step up and give the Niners a balanced offensive attack while Gore is out.