Bettis rips Panthers' Delhomme, Fox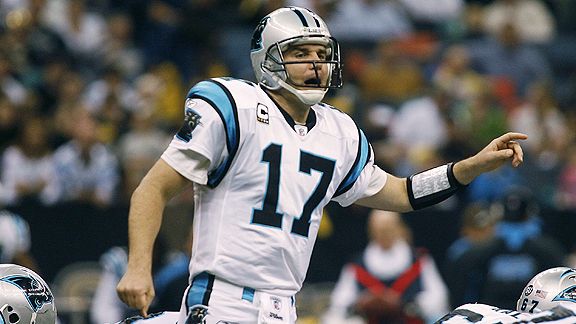 Former Steelers running back and current SI.com writer Jerome Bettis says that somebody needs to be fired in Carolina after quarterback Jake Delhomme followed his atrocious outing in last year's playoffs with an equally brutal performance Sunday in a loss to the Eagles.
Fox saw that playoff game last year firsthand. He had an entire offseason to evaluate his passers. And he didn't take the necessary steps to ensure the franchise's success down the line. Whether it was a free agent — Matt Cassell, Sage Rosenfels, Michael Vick — or even a rookie in the draft, he didn't demand a quarterback to challenge Delhomme.

Instead, the Panthers gave Delhomme a five-year contract extension, and now they don't have anyone else who can compete for the position. Fox went through the whole darn depth chart yesterday and didn't see a positive thing from anyone.

To me, that all goes on the coach. Coaches live and die by their quarterbacks, and Fox is riding Jake Delhomme to his grave. If he wants to save his job, he ought to be looking for options, whether it be a veteran who got released in the preseason or someone in a trade. Maybe it's time to call Minnesota about one of its backups.
While I don't know what "To me, that all goes on the coach" means, I agree with Bettis. Regular readers know that I have ripped the Panthers in the past for not planning for their future at the quarterback position and now they're stuck with Delhomme, the underwhelming Matt Moore or the recently signed A.J. Feeley.
I always hear about how good of a coach Fox is and how he gets the most out of his players. That may be, but he seriously screwed the pooch in evaluating Delhomme this summer, because it's apparent that the QB has lost a ton of arm strength. Not only that, but his decision-making and awareness have been terrible and he's prone to throwing into tight coverage.
Delhomme isn't the quarterback he once was and as soon as Feeley learns Jeff Davidson's offense, Fox will probably make a switch. Either that, or Fox will probably go down in flames with Delhomme, just as Bettis suggests.