Jeter ties Lou Gehrig for Yankees' hit record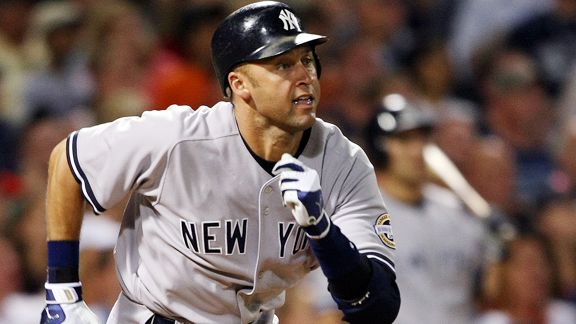 Derek Jeter tied Lou Gehrig for the Yankees' hit record with a single in the seventh inning of New York's 4-2 victory over the Rays on Wednesday night.
"You look at all the great players that have played in this organization throughout the years," Jeter said. "To say that you have more hits than them or at least tied for the most hits in the history of the organization is definitely hard to believe. It means a lot."

The way in which it happened was typical Jeter. Swinging at an outside pitch, the first he saw in a seventh-inning at-bat against the Rays on Wednesday, Jeter laced Jeff Niemann's offering down the first-base line past a diving Chris Richard.

Then he stood on the bag and doffed his helmet twice, as the Rays climbed to the top step of the visiting dugout and 45,848 fans roared their approval of Jeter's 2,721st career hit.

"It's mind-boggling," Yankees manager Joe Girardi said. "You think about what Derek has done his whole career, how great he has been for such a long time and what he has meant to the organization, and you put his name next to Lou Gehrig. It's amazing."
Even if you hate the Yankees, you have to appreciate what Jeter has accomplished in his career, especially while playing in the steroid era. His better days are definitely behind him (most notably on defense), but he continues to go out every night and play like it's his last game.
Jeter is one of the finest baseball players ever to play the game and a true role model for how hard work and determination pays off. He also respects former players and takes pride in joining them in the record books.