Patriots ruin Richard Seymor's life, trade him to Oakland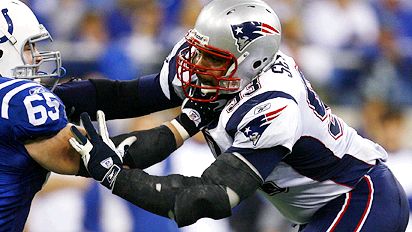 The New England Patriots obviously have no soul.
There's just no other explanation as to why they traded defensive end Richard Seymour to the Oakland Raiders in exchange for a first round pick in 2011.
From the Boston Globe:
The stunning trade came just eight days before the Patriots open their season against Buffalo on "Monday Night Football.'' The trade of the five-time Pro Bowl defensive end leaves just four players that have been with New England for all three of its Super Bowl championship seasons (2001, 2003, and 2004) – Tom Brady, Matt Light, Kevin Faulk, and Stephen Neal – while, in the short term, weakening the team's pursuit of another title by breaking up one of the NFL's elite defensive lines.

This was the final season of the lucrative, $30-million-plus contract extension Seymour received in 2006, the last time he was entering the last year of his contract. He was set to make $3.685 million in base salary and carry a cap charge of $9.79 million this season.
While my joking in the intro of this post would make it seem like I disagree with this move, I actually think it's a brilliant trade for the Patriots. Seymour is still incredibly effective, but he can't seem to stay healthy and his play has fallen off in recent years. Plus, he's in the final year of his contract and there was no guarantee that a) Seymour would re-sign with the Pats and b) New England would even want him back at an inflated price.
For as bad as the Raiders have been since their Super Bowl trip in 2002, the Pats could wind up picking in the top 10 come 2011. So not only did New England wind up getting a first round pick in exchange for Seymour, but they also found a trade partner that is notorious for picking high in drafts. (I realize there's no guarantee that the Raiders will be bad in 2011, but if recent history is any indication, they should be picking near the top of the draft in two years.)
For Oakland, Al Davis definitely upgraded his talent on the defensive side of the ball. But Seymour won't be a difference maker on a team that is incredibly devoid of defensive playmakers outside of Nnamdi Asomugha and Kirk Morrison.