Sanchez struggles in second preseason game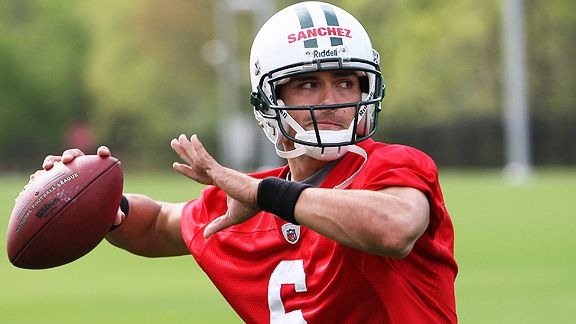 Rookie quarterback Mark Sanchez was just 3-of-8 for 43 yards, one touchdown and one interception (which was returned for a TD by defensive tackle Haloti Ngata) in the Jets' 24-23 loss to the Ravens on Monday night. Kellen Clemens, Sanchez's main competition for NY's starting quarterback job, didn't fair much better, completing just 5-of-10 passes for 60 yards, one touchdown and one interception.
Sanchez almost threw a second pick in the game, but Ray Lewis showed off his stone hands on the play and dropped it. The rookie QB did bounce back after his poor start, hooking up with Leon Washington on a 19-yard touchdown pass before exciting the game after being hit in the head.
Even with this bad outing, chances are that the Jets will still name Sanchez their starter because Clemens hasn't done anything to prove he deserves the job more. Sanchez has reportedly showed a stronger arm and more accuracy all summer and thus, will probably win the gig at some point.
This is just speculation, but if Sanchez starts and plays well Saturday night against the Giants, Rex Ryan will name him the starter shortly thereafter.