Did Raiders' Cable fracture assistant's jaw?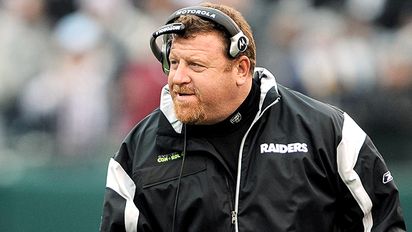 According to a report by Nancy Gay of AOL Fanhouse, Raiders head coach Tom Cable fractured the jaw of defensive assistant Randy Hanson during a fight early in training camp. But Cable denies that punches were thrown and ESPN.com is reporting that Hanson suffered the jaw injury when Cable flipped him out of his chair.
That's backed up by what former NFL scout Daniel Jeremiah told ESPN's Chris Mortensen. Jeremiah's "reliable source" said that Hanson broke a facial bone when his cheek hit a cabinet in a team meeting room when Cable flipped him out of his chair.

Jeremiah also wrote on his Twitter page that Cable reacted when Hanson spoke profanely to defensive coordinator John Marshall. Cable rebuked Hanson, then pushed his chair, which caused the injury.
There seems to be little doubt that something did take place between Cable and Hanson, but the details are shaky. There apparently was an argument between the two coaches and physical contact did occur, but it appears that Gay's original report that Cable punched Hanson seems to be false.
Regardless, it's hard not to appreciate this kind of news coming out of Raiders' camp. I would question whether or not a report like this was true anywhere else, but not in Oakland.
Al Davis has to be loving himself some Tom Cable right about now.