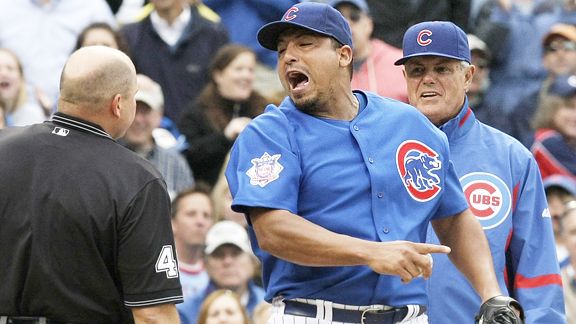 Cubs' starter Carlos Zambrano admitted that he's been lazy in his conditioning over the years, which is one of the reasons he can't seem to stay healthy.
From the Chicago Tribune:
"My problem is I've been lazy," a contrite Zambrano said. "There are things in life you don't like to do, but you have to do them. I don't like abs [abdominal muscle workouts], but I have to do them. I have to start doing them every day and be serious about it."

Doctors are convinced stronger abdominal muscles will ease the pain on back discs, one of which is bulging and has caused Zambrano pain on and off for a few years.

"I've got to be honest with me and with you [media] guys and the fans. I'm 28 years old, I'm not 16 anymore," Zambrano said. "I'm a big guy and I work hard every day, [but] one of the things I don't like to do is my abs, my core work. If I do abs every day and keep doing my job and be serious about my abs, I'll be OK."
I'm sure the Cubs and their fan base are thrilled to hear that Big Z hasn't being working as hard as he could have been over the years, especially when you factor in how much he's making.
I'm a little surprised that Zambrano wasn't working on his core up until this point, given how important it is in baseball. Then again, there are a lot of players that rely solely on their God given talents and not strive to become a more complete player, so maybe this news shouldn't come as a surprise