MLB Power Rankings—Top 5 and Bottom 5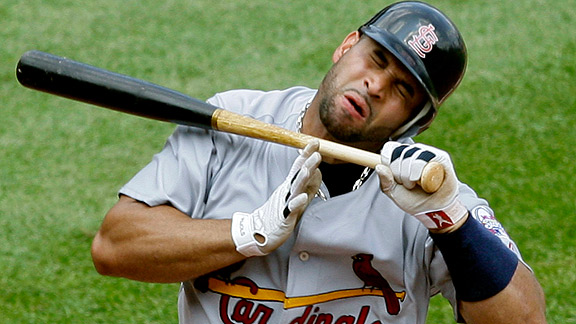 It's getting down to pennant race times and there are some incredibly tight races and a lot of teams that are at least in contention. Here we'll take a look at who we think the Top 5 teams are right now and who the Bottom 5 are as well.
Top 5
1. New York Yankees (73-43)—Not only did the Yankees sweep the rival Red Sox last weekend and make quite a statement, they've won 10 of 11 and are 22-6 (.786) since the all-star break. That is just scorching.
2. Los Angeles Angels (68-45)—You have to feel for the surging Rangers and even the Mariners, because neither one is going to catch this fundamentally sound team. If Mike Scioscia isn't the best manager in baseball, he's surely the most underrated.
3. St. Louis Cardinals (65-52)—The Cards grabbed Matt Holliday before anyone else could and he's batting .493 with a slugging percentage of .813 in his first 75 at-bats with St. Louis. Pujols/Holliday has got to be the most fearsome 3-4 tandem in baseball.
4. Los Angeles Dodgers (69-47)—The Dodgers hung on without Manny for a few months, and then cooled off when he returned. They've lost 7 of 11 but still lead their division by 5 games and are 32-14 against NL West opponents.
5. Philadelphia Phillies (65-48)—Suddenly with Cliff Lee and Pedro Martinez, and Jimmy Rollins finally finding his stroke, the defending champs are poised to make another run deep into October and possibly November.
Bottom 5
1. Washington Nationals (41-75)—They recently won eight in a row but still trail the Phillies by 25.5 games and the fourth place Mets by 13.5. So yeah, they're still the worst team in baseball.
2. Pittsburgh Pirates (46-69)—The Pirates actually looked half decent early in the season, but they did what they always do in July—made a whole bunch of trades and pretty much surrendered the season as well as the next three seasons, as they've lost 11 of their last 13 games.
3. Kansas City Royals (45-70)—Remember the Royals were 14-12 and everyone started talking about this team being decent for the first time in two-plus decades? We remember, but then they remembered that they were the Royals.
4. Baltimore Orioles (48-67)—This team has some great young players like Adam Jones and Matt Wieters and Nick Markakis, but playing in that division is almost unfair.
5. Cleveland Indians (49-66)—Once again, the Indians have disappointed and started selling off players. Cliff Lee, like CC Sabathia last year, is the reigning AL Cy Young winner, and the Tribe also dumped popular catcher Victor Martinez and infielder Ryan Garko. Next year sure has a familiar ring on Lake Erie.
Comments Off on MLB Power Rankings—Top 5 and Bottom 5

Posted in: MLB
Tags: Adam Jones, Albert Pujols, Baltimore Orioles, baseball, Boston Red Sox, CC Sabathia, Cleveland Indians, Cliff Lee, Jimmy Rollins, Kansas City Royals, Los Angeles Angels, Los Angeles Dodgers, Major League Baseball, Manny Ramirez, Matt Holliday, Matt Wieters, Mike Scioscia, MLB, New York Mets, New York Yankees, Nick Markakis, Pedro Martinez, Philadelphia Phillies, Pittsburgh Pirates, Seattle Mariners, St. Louis Cardinals, Texas Rangers, Washington Nationals