Cards trade three prospects to A's for Holliday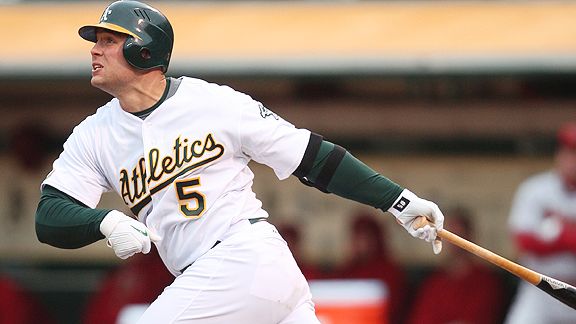 The St. Louis Cardinals have finally found slugger Albert Pujols some protection in the lineup, as the Red Birds traded three minor league prospects to the A's in exchange for outfielder Matt Holliday according to ESPN.com.
One of those three minor leaguers was Brett Wallace, who was Baseball America's 40th-best prospect entering the season, while the other two were 24-year old right-hander Clayton Mortensen and outfielder Shane Peterson, who was a second rounder in 2008. Apparently Oakland will also chip in $1.5 million to help pay for some of the $6 million still left on Holliday's contract.
After a slow start, Holliday is now hitting .286 with 11 home runs and 54 RBI. He instantly makes the Cardinals the favorites to win the NL Central and challenge the Dodgers and Phillies for the NL Pennant by adding much-needed protection behind Pujols in the lineup. His presence in the order should also make players like Mark DeRosa and Ryan Ludwick better as well.
Billy Beane once again did well in a trade. The Oakland GM wanted to get Holliday's contract off the books (or as much of it as he could), but he also didn't want to just stick a for sale sign in Holliday's forehead and give him away for free after trading multiple players to acquire him from Colorado last winter. With Holliday set to become a free agent at the end of the season, Beane did well to not only shed salary, but also get one of the Cards' best prospects in Wallace.
What will be interesting to keep an eye on over the next two weeks as the trade deadline approaches, is whether or not the Cubs or Brewers will make a big move to counter this trade. Chicago doesn't have much to offer in its farm system, but Milwaukee, as usual, is stacked and could look to add a pitcher. Although it would require giving up a haul, it'll be interesting to see if the Brew Crew makes a run at Roy Halladay or the Tribe's Cliff Lee.