Mets' Manuel, Minaya assured they won't be fired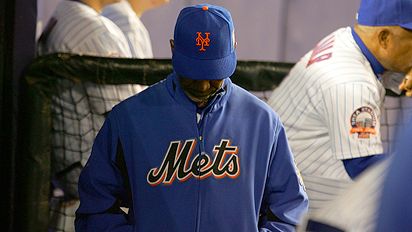 For those Mets fans that were hoping either manager Jerry Manuel or GM Omar Minaya (or both) would be fired after yet another disappointing season in NY, think again.
With nine players on the disabled list, including three members of the Mets' core, it became apparent early on that neither Jerry Manuel nor Omar Minaya was going to take the fall for the team's dismal performance this season.

Manuel is signed through 2010, and Minaya's three-year contract extension doesn't even begin until next season. So it wasn't surprising that a source confirmed today that COO Jeff Wilpon already has assured both Manuel and Minaya that their jobs are safe. The story was first reported by SI.com.
There's no question that injuries have played a huge role in the demise of the Mets this year. So maybe Manuel and Minaya do deserve a mulligan for this season.
But regardless of injuries, this year has been an utter disaster for the Mets in terms of the most basic things in baseball. They can't field pop ups, the outfielders don't communicate on fly balls, the team struggles on a whole running the bases properly, etc. Those things have nothing to do with injuries – those are basic fundamentals of the game.
Now, is all of that Manuel and Minaya's fault? Maybe not. But they both have had a hand in how poorly this club has played this year – injuries or no injuries.