Are the Rams the NFL's sleeper team of '09?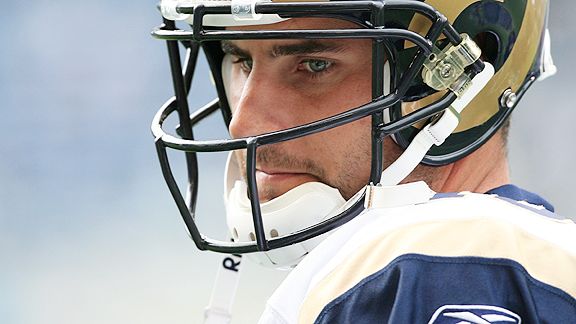 Mike Tanier of the New York Times must have been hitting the sauce the past couple days, because he's suggesting that the Rams will be one of the NFL's surprise teams in 2009.
It turns out that Spagnuolo isn't the only reason for optimism in St. Louis. Many statistical indicators suggest that the Rams are close to rising again. One is their fumble recovery percentage: the Rams forced 17 fumbles last year but recovered just 5, a sign that with better luck and a dose of Spagnuolo's coaching, their defense will create a few more turnovers.

The Rams were one of the worst teams in the league in red zone running, and it takes only a slight improvement in that area to make a big difference on the scoreboard. The Rams lost many of their starters to injuries in 2008 and can get better just by getting healthier.

One other major factor works in the Rams' favor: their division. The Seahawks are rebuilding. The 49ers haven't had a winning season since 2002. The Cardinals won the conference, but they are no powerhouse. With a few slight improvements, the Rams could easily go 4-2 or 5-1 against the N.F.C. West. Those wins alone would give them their best record in three years!
I like the direction of this team under Spagnuolo more than I do Scott Linehan, but this is still a bad football team, even in a weak division.
Steven Jackson is a beast, but the Rams' offensive line is brutal (remember that Jason Smith hasn't taken a snap in the NFL yet) and Marc Bulger checked out years ago. He plays with zero passion and even if he were into the games, the offensive line will get him stomped anyway. The defense has some nice young pieces to build around in Chris Long, Ron Bartell, Adam Carriker and James Laurinaitis, but there are still a ton of holes on that side of the ball, too.
Will the Rams be improved in '09? Maybe. Will they be a sleeper? Pass me whatever Tainer is drinking and I'll let you know.