Jets' Calvin Pace suspended four games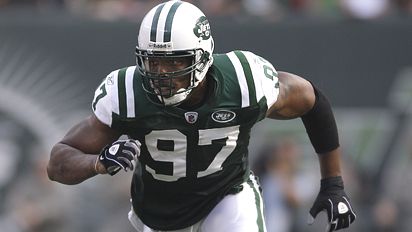 According Dan Leberfeld of NY Jets Confidential, linebacker Calvin Pace has been suspended without pay for the team's first four regular-season games of the 2009 season for violating the league's substance abuse policy.
Pace's suspension begins on Saturday, September 5. He is eligible to return to the Jets' active roster on Monday, October 5 following the team's October 4 game against the New Orleans Saints.

Pace is eligible to participate in all preseason practices and games.

And like almost all suspended players, Pace had no idea he was taking a banned substance.

"This is a situation that resulted from an over-the-counter dietary supplement that contained a substance that I did not know violated the League's policy," said Pace. "I am responsible for what I put into my body and I should have paid closer attention to the League's guidelines."
Tough break for a Jets defense that has been building excitement since the hire of new head coach Rex Ryan. Pace was outstanding last year for the Jets coming over from the Cardinals, quickly establishing himself as the team's top pass rusher.
Although this is a huge blow for the Jets, this is a big opportunity for second-year player Vernon Gholston, who was an utter disaster as a rookie last year. If Ryan can get Gholston to understand pro schemes like Eric Mangini attempted and failed to do last year, then maybe the former Ohio State product can make a splash this season. Ryan sees Gholston as a potential Terrell Suggs in his defense, but Gholston has to learn the playbook first.