Is Matt Holliday the answer to the Giants' offensive woes?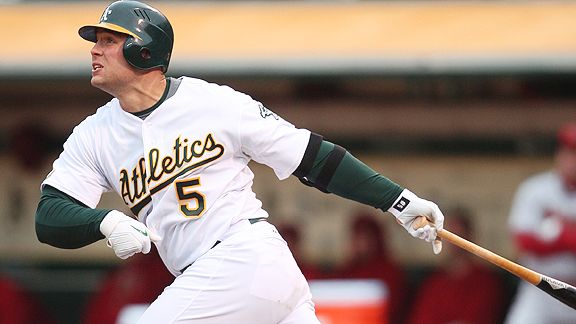 It's been five years since the San Francisco Giants have made a postseason appearance, so you'll have to pardon their fans if they're overly optimistic about the chances of their club possibly making the playoffs this year despite a lineup that often employs Edgar Renteria as its two-hole hitter.
The G-Men are currently 8.5 games back of the Dodgers in the NL West and with the PED Predator coming back from his suspension soon, L.A. is surely to stay well ahead of San Fran in the division. But the Giants are currently one game up on the Brewers for the NL Wild Card and if GM Brian Sabean could add a player or two before the July 31 trade deadline to help mask San Fran's biggest flaw, then the five-year playoff drought could end.
What's the Giants' biggest flaw you ask? Well if anyone can look at their lineup without doubling over in side-splitting laughter, then some kind of award is deserved.
The starting pitching is absolutely outstanding, with Tim Lincecum and Matt Cain headlining a rotation that also features 300-game winner Randy Johnson and the now-watchable Barry Zito. The bullpen has actually been a strength as well, with Sergio Romo and Jeremy Afeldt proving to be steady setup men for '08 All-Star closer Brian Wilson.
But the offense is at least one bat away from being beat-your-head-against-the-wall frustrating to, man-these-guys-aren't-half-bad serviceable.
Enter Matt Holliday.
Even though the last place A's would love to get something in return for Holliday before he walks at the end of the season, they're not going to give him up for a warm hug and a bedtime story just to relieve themselves of his $13.5 million salary. They'll likely want some young prospects and as long as their names aren't Buster Posey, Madison Bumgarner or Tim Alderson, the Giants might be willing to part with a couple of their farm pieces.
What the Giants would love is if Oakland GM Billy Beane temporarily lost his mind and took a trade package with either Fred Lewis or Jonathan Sanchez as the headliners. But the stock has never been lower on Lewis and Sanchez, so it's highly doubtful Sabean gets any kind of decent value for those players right now.
Granted, what the Giants really need is a solid bat in the infield. Their second base production this year has been a disaster (although recent call-up Matt Downs has showed signs of being a capable bottom-of-the-order player) and Renteria's offense goes from nauseating to infuriating on a nightly basis. Unless Travis Ishikawa suddenly gets hot (which he could – he does have two home runs in the last four games), the Giants could stand to add a bat at first base, too. (Or allow Pablo Sandoval to play 1B and acquire a third baseman.) That said, Aubrey Huff, Nick Johnson, Mark DeRosa, Troy Glaus, Luke Scott, Adam Dunn, Felipe Lopez and Adam Kennedy are all possibilities.
Also, the Giants have a 25-year old in Nate Schierholtz who is finally getting a chance to play more regularly and is starting to heat up. So with Schierholtz producing and Randy Winn already holding down the other corner spot, is there room for Holliday? Andres Torres is already proving to be a fine fourth outfielder, so if the Giants didn't move one of their existing outfielders, acquiring Holliday doesn't make much sense.
But if they're looking to make a splash, then you can't get much better than Holliday in terms of what's currently available. He knows the NL West, he's the middle-of-the-order bat that the Giants covet and who knows, maybe he'll go on an Alcatraz tour, fall in love with the city and decide to sign a long-term deal.
Last year the Dodgers took a risk and traded for Ramirez and wound up in the NCLS. Holliday hasn't exactly been tearing it up in Oakland this season, but maybe a move back to the NL is exactly what he, not to mention the Giants, need. Either way, San Fran needs an offensive piece to help end their five-year postseason drought.