Dolphins' first round pick Vontae Davis was arrested on June 9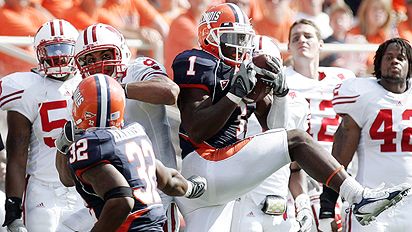 Dolphins' rookie cornerback Vontae Davis was arrested in Champaign on June 9 for "unnecessary vehicular noise" and driving without a valid license according to The Daily Illini.
The incident occurred at 6:47 p.m. The report summary said the stop was a "Terry Stop," which Champaign Police Department spokesperson Rene Dunn defined as a routine traffic stop.
The loud music isn't a huge deal, I mean, who hasn't blasted a little REO Speedwagon on the car stereo from time to time? But the fact that the moron was riding around without a valid license while blasting music (which certainly drew attention to himself) shows a major lack of judgment. I've never made it a habit to drive without a valid license but if I ever do, I can assure you that my hands will be at 10 and 2, while the music is at whisper-level.
On the surface, this might not be a huge deal and we don't need to paint Davis with a Pacman Jones-type brush. But Ron Zook benched Davis twice while he played at Illinois because he had behavior issues and word has it that second rounder Sean Smith has outplayed him so far in offseason OTAs. Thus, this hasn't been a good start to Davis' pro career and it sounds like the young man has some growing up to do.
Davis might have to pay a trip to Bill Parcells' office soon for a come to Jesus meeting.
Update: Apparently Davis wasn't even in the state of Illinois on June 9. The Daily Illini screwed the pooch on this one, and made me look like a fool in the process – a fool! My apologizes to Vontae Davis for believing anything the Daily Illini printed…a fool!