Sapp: Young players don't listen to veterans anymore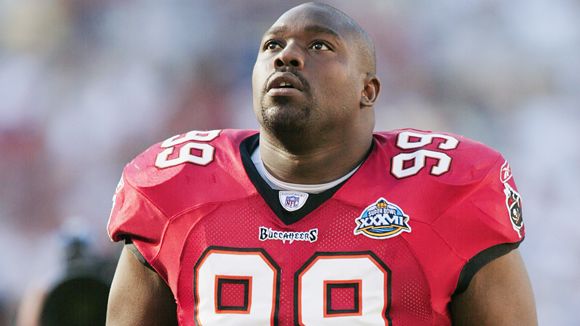 In his latest edition of "Monday Morning Quarterback," Peter King wonders aloud why no team has signed former Bucs linebacker Derrick Brooks this offseason. King sought the opinion of former player Warren Sapp, who, as always, was ready and willing to share his thoughts on the subject.
"I'll tell you the real reason," his friend Warren Sapp said over the weekend. "Because it's not the same for the veterans anymore. The NFL doesn't need us. In this NFL, the old vets don't factor in. The kids don't listen to nobody. Nobody! My last year in Oakland, I'd try to talk to some of the kids. Tommy Kelly, Terdell Sands. But they had no interest. I thought the ghosts in that building were so valuable, but none of the young guys cared. Once in a while, one of the old legends would come in the building, or make a trip. Jack Tatum would be around, and I'd say, 'You know who that dude is? You know how he played?' And the kids would be like, 'Nah, I don't care.'

"The game's different now. Look at Vince Young. Why wouldn't he listen to Kerry Collins? I'm sure Vince thinks, 'Nobody's been through what I'm going through. Nobody's been through my kind of pressure.' Are you kidding me! Kerry Collins, fifth pick in the draft, has all the ups and downs, gets benched, makes those racist comments, has the alcohol problems, moves from team to team, comes back, has success … Vince Young should suck up all the knowledge Kerry Collins has to offer! There's no better role model for him."

I have heard that Collins went out of his way last year to try to help Young when the struggling quarterback was having his quasi-breakdown. Young had no interest. Maybe Sapp's on to something. If he is, it's a sad commentary on the kids of the NFL. I remember being in Tampa last year to do a story for SI on Brooks playing Adrian Peterson and the Vikings, and I thought at least one of the young linebackers, Barrett Ruud, tried to siphon off Brooks' knowledge.

"I always wonder during games, 'How Derrick get there so fast?' " Ruud said. "Then I'd watch the tape, and I'd see he started running to the spot before I would have, because he just knew his keys and he knew the tendencies of the offense better than anybody else." But I also heard that while Ruud was a willing listener, the other young 'backers weren't.
In the specific case of Young not wanting Collins' help last year, that could have been because VY was embarrassed about his situation. I know if I was embarrassed about a personal situation I wouldn't necessarily be ready to talk about it to everyone — especially if they weren't a family member or close friend.
But in general, Sapp is probably onto something, although I don't think this only happens in the NFL. That just comes with the territory of life. Younger people always think that they have all the answers and it usually takes a little adversity to convince them to seek the advice of those who have already been through the ringer a few times.
It would be nice if every rookie sought the advice of veterans and didn't repeat the mistakes of those before them. But the reality of the situation is that everyone has to live and learn from their own mistakes. Collins probably wouldn't be the man he is today if he hadn't gone through what he did a few years ago. Maybe Young will take what happened last year and turn it into a positive going forward.
I will say this though, it would be nice if younger players respected those who came before them a lot more than they do now. Everything is always, "me, me, me" in professional sports and I'm sure younger players could learn a lot from the way legends played before them.