Dice-K out of Boston's rotation for good?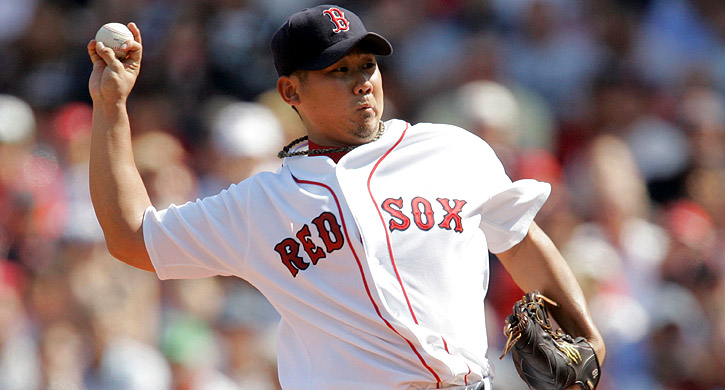 The Red Sox might have found the answer to their question about what to do with their starting rotation when John Smoltz comes off the DL, although it's certainly not one they were expecting would unveil itself.
Boston fans and those unfortunate enough to have him on their fantasy team know that Daisuke Matsuzaka has been wretched this season. After the Braves beat him like a piñata last Friday, Dice-K dropped to 1-5 on the season with an 8.23 ERA and 2.20 WHIP.
Following that performance, the BoSox placed Matsuzaka on the disabled list for the second time this year, this time due to isuckitis and ican'tthrowastriketosavemylifeitis. And as the Boston Herald points out, Dice-K might not return to the starting rotation for the rest of the season, even if he does come off the DL in perfect health.
Smoltz is set to make his 2009 debut this week and with Brad Penny pitching as well as he has this season, there isn't any room for the struggling Matsuzaka in the rotation. So even if the team doesn't find anything wrong with him in his latest stint on the DL, Dice-K might have to ride out the rest of the season in the bullpen or on the pine.
Of course, there's a major possibility that the 86-year old Smoltz and the fragile Penny could go down at some point this season and Dice-K could leap back into the rotation, so let's not get ahead of ourselves. But it is staggering that a pitcher who went 18-3 last year with a 2.90 ERA has struggled so badly this season.
One issue that is sure to be brought up is Dice-K's role in the World Baseball Classic. He pitched well int he WBC this year, yet he's struggled mightily so far in the MLB season. How does a pitcher who went 18-3 one year go directly in the toilet the following season? Did he get worn out or hurt in the WBC? If he did, it would be yet another reason not to have the WBC be played before the MLB season.
Either way, Boston is thankful to have the pitching depth they do and despite other teams being interested in his services, it doesn't look like Penny is going anywhere now.