Red Sox to skip Dice-K's next start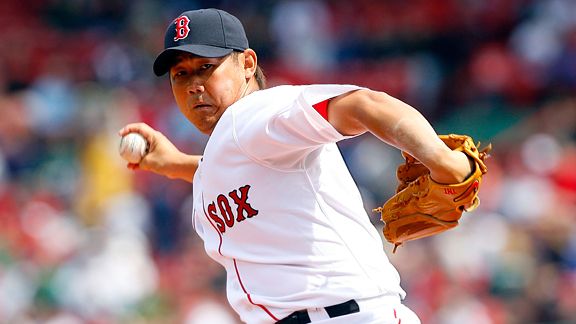 With John Smoltz set to come off the DL, the Boston Red Sox have decided to skip struggling Daisuke Matsuzaka's next start.
At the moment, Matsuzaka does not have a next scheduled start. John Smoltz is slated to go Thursday in Matsuzaka's normal turn in the rotation. Pitching coach John Farrell said after the game, "I think until a determination comes from within, we haven't announced a rotation beyond that.''

"There's certainly no imminent announcement, if that's what you're asking for,'' Farrell added of what comes next for Matsuzaka. "But knowing how determined he is, knowing the work ethic that he has, he's disappointed, I'm sure. But at the same time we can't forget that this is a 33-game winner over the previous two years coming into this season. We certainly have some work to do. Consistency of strikes, particularly with his fastball, is the primary target. We'll continue to work toward that.''

Manager Terry Francona said that with Monday's offday, the Sox have "the ability to be a little flexible in what we do going forward.'' He also said that nothing is likely to be an nounced before Monday, prior to the team's trip to Washington.
The Sox were contemplating moving Brad Penny to the bullpen to make room for Smoltz in the rotation, but he's pitched well in his last two outings and it's hard to move him with Dice-K pitching so poorly. Penny's name has also surfaced in trade rumors the past week, but nothing serious has materialized yet.
While Boston would certainly love to have the Dice-K that went 18-3 last year, at least with Penny pitching well they can be patient while Matsuzaka works out the kinks. While they have the time, I'm sure the club's training staff will determine whether or not Dice-K's problems are physical. He could still be suffering from the shoulder injury that landed him on the DL last month.