Five MLB trades that don't need to happen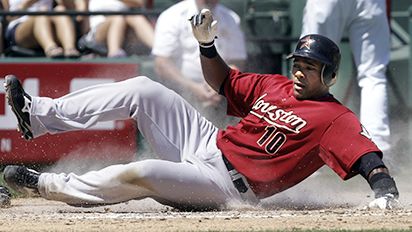 I get it – baseball trades are fun. They're fun to speculate about, they're fun to debate and they're fun to analyze. But just because a club needs a bat, an arm or is just looking to shrink salary, doesn't mean that a trade needs to happen.
I've compiled a list of five trade rumors and where they originated. I then discuss why each of them makes sense, but why they also don't necessarily need to happen.
Rumor #1: The Red Sox will trade for Pirates shortstop Jack Wilson (Pittsburgh Post-Gazette)
Why it makes sense: Boston is growing impatient waiting for Jed Lowrie to recover from a wrist injury that has held him out since mid-April. They're also tired of watching Julio Lugo (who is equally bad offensively as he is defensively) make a mockery of the game whenever he trots onto the field. While Nick Green has done well filling in for Lowrie while he's been hurt and for Lugo while he continues to work on being the most overpaid player in professional sports, the Sox feel they could do better with Wilson. (There's also a rumor making the rounds that Boston wouldn't have to give up any top prospects in order to acquire Wilson – they just would need to take on the rest of his salary.)
Why it doesn't need to happen: Wilson is excellent defensively, but he brings very little to the table in terms of offense. He's also overpaid himself, as he'll make $7.25 million this year and $8.4 million in 2010 despite being limited at the dish. While waiting for Lowrie to return to the field has been a slow death for the Sox, he's cheaper than Wilson and gives the team a better overall player at the position (when he's healthy, of course). Plus, Green has played well and Boston might be better served holding onto prospects in order to make a more productive move around the trade deadline (i.e. adding another bat in case David Oritz plans on hitting south of .200 all season) than one involving Wilson.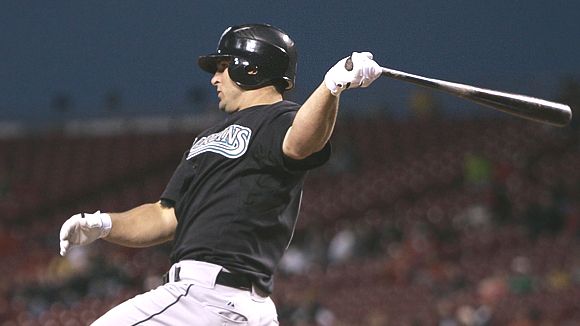 Rumor #2: The Giants will trade for Marlins second baseman Dan Uggla (Sun-Sentinel)
Why it makes sense: The Giants are playing better than most expected this season, but they're doing it all with pitching. They've surrendered the fewest runs this year (233), but have scored the third fewest (248) themselves. San Fran might not be able to catch the streaking Dodgers in the NL West (as of this writing, the Giants are seven games back of L.A. in the division despite being six games above .500), but if they continue to play well, the Wild Card is certainly attainable. But they need offense – badly. While Uggla's batting average has been atrocious all season, he does have 11 home runs and 40 RBI so the thought is that he could add much-needed pop to the Giants' lineup.
Why it doesn't need to happen: Yes, the Giants do need offense. But don't forget that they play in a pitcher's park so even if they did acquire Uggla, who knows how his power would translate to AT&T Park. And his average is death so if he's not going to hit home runs, he's not worth acquiring (and don't forget that his defense is brutal, too). The Giants' current starting second baseman is Emmanuel Burriss, who has zero pop and has struggled at the plate despite tearing it up in the spring, but he has an outstanding glove and he's young. It's rumored that the Marlins would be looking for young pitching in exchange for Uggla, but it's not worth it for the Giants to give up a young arm like Jonathan Sanchez (even though he's struggling) to acquire Uggla while there are still options within the organization (and I don't necessarily mean Burriss, who has been brutal, but Kevin Frandsen, who has been absolutely hosed by the organization this season). Plus, the Giants aren't one bat away from making a deep postseason run – they're two or three bats away. Acquiring Uggla isn't going to change that. The Giants have also been linked to players like Adam Dunn and Paul Konerko and I would say the same thing about them as I do about Uggla – those players aren't worth giving up young arms with the Giants still a year or two away from seriously competing. Unless they could get a young bat in a deal, San Fran GM Brian Sabean should stand pat and continue his rebuilding plan.
Rumor #3: The Cardinals will trade for Astros shortstop Miguel Tejada (St. Louis Post-Dispatch)
Why it makes sense: Manager Tony La Russa desperately wants to add another bat to the lineup to help protect Albert Pujols and upgrading the left side of the infield while Troy Glaus and Khalil Greene continue to miss time is a necessity as well. Tejada would cover both needs as he's hitting .344 with six home runs and some feel as though he can play third base if needed, although he has never actually played there before.
Why it doesn't need to happen: First and foremost, there's no guarantee that the Astros would want to trade within their own division. Plus, despite currently being three games under .500 and in last place, Houston is only four games back of the Brewers in the NL Central, so they'll hang onto Tejada if they feel as though they have a shot at the playoffs (however slim those hopes may be). But looking at this from the Cardinals' perspective, acquiring Tejada doesn't make as much sense as going after someone like Cleveland's Mark DeRosa, who is also rumored to be available. Tejada will earn $13 million in 2009 and is set to become a free agent in 2010. Chances are, St. Louis wouldn't re-sign Tejada in the offseason and they'd probably have to pay Houston a premium because it would be a trade down within the division. Throw in the fact that Tejada isn't that great of a defensive player and adding him makes little sense. A guy like DeRosa would still give the Cards a quality bat, a better defender who has actually spent time at third base, and cheaper player to boot.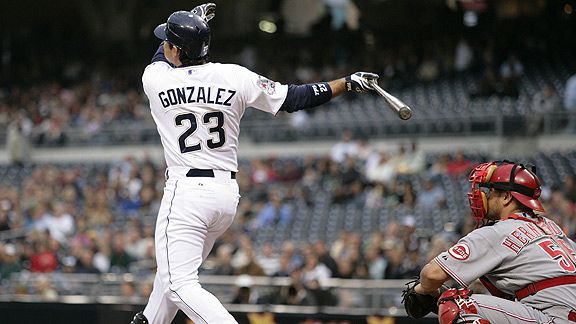 Rumor #4: The Padres will trade Adrian Gonzalez (ESPN.com's Buster Onley)
Why it makes sense: It doesn't make sense unless you look at it from the view of the Padres' front office, who wants to cut team salary significantly. (That's why San Diego has been actively shopping Jake Peavy.)
Why it doesn't need to happen: This is more of a notion than a rumor. As previously noted, the Padres want to cut salary but they've been unable to move Peavy, so speculation has it that they could wind up dealing Gonzo if the right trade comes along. But while cutting salary is important to the front office, GM Kevin Towers can't just give up a young slugger like Gonzalez in a cost-cutting move. Obviously Towers would get a couple of prospects in exchange for Gonzo, but would he be willing to take a lesser deal just to free up some money? If so, that would be incredibly disappointing for a Padre fan base that has embraced Gonzalez and hopes that he'll still be around when San Diego eventually is competitive again (whenever that might be).
Rumor #5: The Red Sox will trade Brad Penny (Boston Globe)
Why it makes sense: With John Smoltz set to come back soon from a rehab assignment, Penny will be expandable to the Red Sox, who have discussed moving him to the pen (despite his unwillingness) when Smoltz returns to the mound. Boston seemingly has an abundance of starting pitching and if they could get a couple of prospects or a position player of worth in exchange for Penny, why not move him?
Why it doesn't need to happen: A lot has been made about Boston's pitching depth, but things could go from good to ugly at the drop of a dime. Dice-K has been brutal and has already made one trip to the DL. Josh Beckett started off slow, recovered to pitch incredibly well over the last month but then was shelled yesterday in Philadelphia. Smoltz is set to return from his rehab assignment, but who knows how he'll pitch once he faces major league batters again. So essentially yes, the Red Sox do have a ton of depth. But that could vanish in a heartbeat and while Penny has looked good in his last three starts, teams aren't going to be willing to overpay for the 31-year old's services – especially knowing that Boston has an abundance of arms. In the end, holding on to Penny for depth and in case of injuries to other starters might be worth it in the end. Of course, if some club offers a top prospect in exchange for Penny (which is doubtful), then all bets are off.
Posted in: MLB
Tags: Adrian Gonzalez, Baseball Rumors, Boston Red Sox, Brad Penny, Dan Uggla, Dan Uggla rumors, Houston Astros, Jack Wilson, Jake Peavy, Jed Lowrie, John Smoltz, John Smoltz return, Julio Lugo, Mark DeRosa, Miguel Tejada, MLB rumors, Nick Green, Pittsburgh Pirates, San Diego Padres, San Francisco Giants, St. Louis Cardinals