Singletary: 'I almost made Michael Crabtree cry.'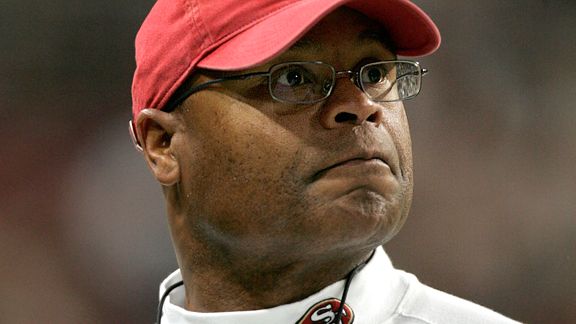 49ers' head coach Mike Singletary is an intimidating man – just ask No. 10 overall pick Michael Crabtree.
Singletary also said he almost made first-round draft pick Michael Crabtree cry. Singletary found him running routes during the first minicamp and admonished him for running before he was cleared by the medical staff. Crabtree is recovering from off-season foot surgery.
Singletary recounted the conversation he had with his prized rookie.

"'I've got nothing against you. I'm not angry or anything. I just want you to know, you have to do everything the doctors want you to do so that you can get better.' I said, 'I'm not worried about what you can do.' I said, 'I know. We drafted you at No. 10. We know what you can do. We just want to make sure that when you come out here, you're ready to go.' So, he's done the things that he needs to do, spending a lot of time with (receivers coach Jerry] Sullivan. I know Jerry is excited about what he's seeing as well."

Crabtree has started sprinting and should be ready for the start of training camp.
Hell, I'd cry if Singletary were yelling at me, too. I'd need a new pair of underwear to boot.
This doesn't seem like a big deal, nor should it be made into one. I think the fact that Crabtree is so anxious to get back onto the field is a great sign, especially considering how many prima donnas there are at receiver in the NFL. I just hope this isn't an indication of Crabtree's toughness (or lack thereof).