Manny: 'I didn't kill or rape anyone.'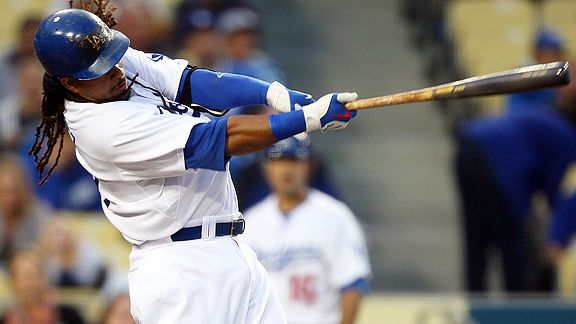 Breaking his silence for the first time since he was suspended 50 games for testing positive for PEDs, Manny Ramirez told the Los Angeles Times that he vows to "make it up" to the Dodger fans by leading the team "to another level" upon his return.
He also dropped this little ditty in the interview:
"I didn't kill nobody, I didn't rape nobody, so that's it, I'm just going to come and play the game," Ramirez said.
You know what? I agree with him. He didn't kill or rape anybody and if he did take steroids, in the grand scheme of things when you really get down to the nuts and bolts of the issue, he only endangered himself.
But the problem is that he was so arrogant reaching this point that nobody has a problem chastising him to no end. He flat out quit on the Red Sox (not just the organization – but an entire team) last year, only to be traded to the Dodgers and be made a hero.
Then, in spite of everything the L.A. organization and fan base did for him, he and his equally arrogant agent dragged the Dodgers through the mud in order to get a new contract even though no other club was bidding for his services.
In the end, Manny settled for a deal that was fair for both sides and then what did he do? Got himself suspended for 50 games, which could have drove the Dodgers into a tailspin until he got back. He's lucky the Dodgers haven't missed a beat on the field or else he would be getting absolutely lambasted on a daily basis.
And pushing all that to the side, there's also the little issue of him (possibly) cheating the game. Manny was the poster child for sluggers to back in the steroid era, but he let baseball fans down and that's his biggest crime to date.
So no Manny, you didn't kill anyone. But because of what you did to get to this point, you deserve all the criticism that floats your way.
Posted in: MLB
Tags: Boston Red Sox, Los Angeles Dodgers, Manny Ramirez, Manny Ramirez comments, Manny Ramirez Dodgers, Manny Ramirez I didn't kill anyone, Manny Ramirez I didn't kill nobody, Manny Ramirez quotes, Manny Ramirez rumors, Manny Ramirez says he didn't kill anyone, Manny Ramirez steroids, Manny Ramirez suspension