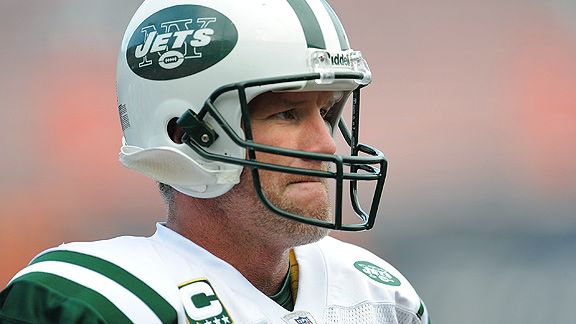 Hey, did you hear the latest on Brett Favre? No?!
Well apparently his family booked hotel rooms for the same weekend that the Vikings are in Green Bay to play the Packers next season. So you know what that means right?!
Absolutely nothing. Or maybe it means he's going to sign with the Vikings. Or maybe he's going to return to the Packers. Or maybe his family is just outright f'ing with us and decided to book a bunch of hotel rooms for that weekend just for the sheer joy of watching writers everywhere scramble to their computers believing they have the mother of all stories, when in fact they have something about as useful as Jose Canseco without steroids. (And if that's the case then – touche, Favre family.)
Either way – I don't care.
I was going to report this Favre-hotel story as I would any other newsworthy item because that's my job. We at TSR try to keep a pulse on what's happening in the sports world and unfortunately (and I do me unfortunately) Favre remains a hot topic right now.
But I swear, if I have to read or write (save for this current post) one more pointless Brett Favre story, then I'm going to take hostages at the local Wal-Mart and not release them until the media stops torturing us with all this nonsense. (And don't worry – I'll let the hostages pick one item out of the store as a keepsake for their troubles…I'm not a monster…)
The title of this post should probably read: I'm sick of the media coverage on Brett Favre, because I know they're the ones that are shoving all this coverage down our throats and not him. But he doesn't escape blame here.
Favre is a media whore. He loves to be in the spotlight and he's become a master of drumming up news whenever the media has become Favre-less for too long. I don't know how he does it, but he manages to make himself relevant every offseason at exactly the right time.
Seriously, what else is there to talk about right now in the NFL? Absolutely nothing. And who is making all the headlines? Brett Favre. How does he do this? Only a story involving him, his family and a bunch of reserved hotel rooms in Green Bay could wind up on ESPN's home page. It's maddening!
Favre is apparently waiting to make a decision on whether or not he's coming back next season until he tests his recently repaired throwing arm. How convenient. That means he and the media will have plenty of time to suck the life out of all of us while he waits to make a decision.
In the meantime, I'll be down at the local Wal-Mart if any of you need me.