2009 fantasy football is coming soon—a look back at 2008 WRs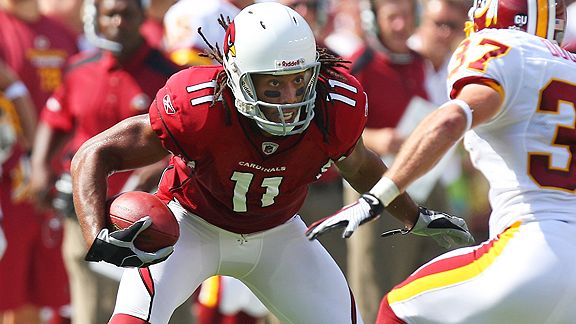 Last week we looked at the top 10 fantasy quarterbacks from 2008 with a look toward 2009. This week, it's about those who catch passes. Wide receivers have become almost as valuable as running backs, so it's important not to overlook that when you're preparing for your fantasy draft. And you are preparing, right? Or will you cram on Labor Day weekend? If you're like me, you're reading this stuff now because these long months without football suck. So, about those receivers….and keep in mind this Top 10 is based on scoring from one of my own fantasy leagues, and stats may differ from league to league:
1. Larry Fitzgerald, Arizona Cardinals—There should be no question remaining as to who has the best hands in football. In fact, I'll just say it — that Larry Fitzgerald is the best receiver in football, and one of the best since the days of (dare I say it) Jerry Rice, or Lynn Swann. Yeah, he's that good, and he's just getting started. In '08, Fitzgerald had 96 catches for 1431 yards and 12 touchdowns….and that's with Kurt Warner having two other legitimate targets in Anquan Boldin and Steve Breaston.
2. Calvin Johnson, Detroit Lions—This poor bastard put up huge numbers last year for an 0-16 team—78 receptions for 1331 yards and 12 scores. It's difficult to draft anyone on the Lions, though.
3. Andre Johnson, Houston Texans—This guy is just a beast. I mean, a freaking beast. Johnson had SIX games of over 130 receiving yards, and wound up with 115 catches for 1575 yards and 8 TDs…all usually with two guys covering him. Like I said, a beast. Now what would he do with a real QB?
4. Anquan Boldin, Arizona Cardinals—Q wants the ball, and he may not get it in Arizona this season. But his numbers and skills have every other GM salivating. Last year, despite missing four games with injuries, Boldin caught 89 passes for 1038 yards and 11 scores. He even rushed 9 times for 67 yards.
5. Greg Jennings, Green Bay Packers—Jennings has been on the verge of fantasy superstardom for a few years now, and I think the next two seasons may be peak years for him — especially with Aaron Rodgers coming into his own and Donald Driver losing a step or two. His 2008 numbers? 80 catches for 1292 yards and 8 touchdowns. This year, I'm saying 100-1500-12.
6. Randy Moss, New England Patriots—The fact that Moss still had a 1000-yard season catching passes from the yet-unproven Matt Cassel says a lot about Moss. Dude is a sick receiver. He had just four 100-yard games, but was consistent over the season with 69 receptions for 1008 yards and 11 TDs. He gets his boy Brady back in 2009, so look for 2007-ish numbers again.
7. Terrell Owens, Dallas Cowboys—He had one game over 200 yards, one more over 100, and every other game below 100. Owens managed 1052 yards on 69 catches with 10 scores, but by his standards the season was a bust. In Buffalo, I can't imagine his numbers will be much better.
8. Lance Moore, New Orleans Saints—Marques Colston was never quite right after coming back from an injury, but Drew Brees kept throwing the ball to this guy, to the tune of 79 catches for 928 yards and 10 touchdowns—with three 100-yard games.
9. Steve Smith, Carolina Panthers—He was suspended for the first two games in 2008, but still racked up 1421 yards on 78 catches with 6 scores…and a whopping eight 100-yard games. Steve Smith is just money, and he should be a Top 5 receiver in every fantasy league.
10. Antonio Bryant, Tampa Bay Bucs—Bryant had his best season as a pro last year after missing the entire 2007 campaign, catching 83 passes for 1248 yards and 7 TDs…and he gets bonus points for doing it with the Tampa Bay Bucs!
Posted in: Fantasy Football, Happy Hour, NFL
Tags: Aaron Rodgers, Andre Johnson, Anquan Boldin, Antonio Bryant, Arizona Cardinals, Buffalo Bills, Calvin Johnson, Carolina Panthers, Dallas Cowboys, Detroit Lions, Donald Driver, Drew Brees, Fantasy Football, Green Bay Packers, Greg Jennings, Houston Texans, Kurt Warner, Lance Moore, Larry Fitzgerald, Marques Colston, Matt Cassel, New England Patriots, New Orleans Saints, NFL 2009, Randy Moss, Steve Breaston, Steve Smith, Tampa Bay Bucs, Terrell Owens, Tom Brady